Ala. councilman accuses fire dept. of conspiracy against ambulance service
Councilman Charles Kirby believes the conspiracy is born out of the Fire Department's jealousy of the Police Department because it can generate revenue with traffic citations
---
Bayne Hughes
The Decatur Daily, Ala.
Councilman Charles Kirby accused Decatur Fire & Rescue on Friday of a "conspiracy" to get rid of the city's current ambulance provider and take over its duties.
Kirby also said he believes the city will get sued if it approves a proposed ambulance service ordinance that fines ambulance providers who operate in Decatur up to $20,000 for failures to meet response time requirements.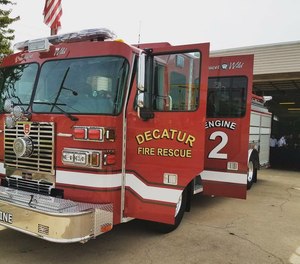 Kirby has been a longtime advocate for First Response Ambulance Service, which is the sole provider of emergency transportation services in Decatur. He said Fire Department officials publicly stated a desire to take over the running of the EMS services, creating a conflict of interest.
"The Fire Department cannot police the ambulance service that it wants to go out of business," Kirby said.
Kirby said the fines are so high in the proposed ordinance they would run any ambulance service out of business.
Fire Chief Tony Grande said he did provide information about costs as well as positive and negative implications of the Fire Department running its own ambulance service. However, he denied the department is attempting to get First Response to leave the city or go out of business.
"There is not a conspiracy," Grande said. "The Decatur Fire Department is responsible for enforcing the ordinance as it is written. Our job is to ensure the city's emergency medical service is the highest quality that it can be."
Council President Paige Bibbee said she doesn't believe the department is out to get First Response.
"I don't see it," said Bibbee, who is liaison to the Fire Department. "Everyone is entitled to his opinion, and I respect his opinion."
Bibbee said the preliminary numbers from Grande for the Fire Department taking over EMS calls was $4 million to $5 million.
"I don't see a funding source so, to me, it's not possible," Bibbee said.
First Response attorney Hal Mooty said he wouldn't speculate on the motives or the timing of the amendments to the city ordinance because he's focused on a June 5 work session in which the City Council plans to discuss the proposed ordinance. First Response, Decatur Morgan Hospital and Morgan County 911 officials are expected to attend the 3 p.m. meeting.
Mooty said the amount of the fines is one of First Response's concerns. The ambulance service would have to pay $10,000 if it falls short on required response times in a quarter and then $20,000 more if it fails to meet requirements for a second straight quarter.
Mooty said the fines "are a number that's higher than normal and inconsistent with the market. I'm hoping that's one of the many issues we can address."
Reasons for fines
Bibbee said the City Council asked for the fines because the city couldn't get First Response to meet its response times requirement of reaching the scene on emergency calls in a 90% average in each quarter of the year.
She said David Childers, First Response operations manager, was OK with fines before the new ordinance was written, "but then he complained they were too high."
Assistant City Attorney Chip Alexander said fines needed to be high enough to make an ambulance service working in the city want to meet the required response times to avoid having to pay them.
Kirby said he believes the conspiracy is born out of the Fire Department's jealousy of the Police Department because it can generate revenue with traffic citations.
"It's a variation of mental illness; it's insanity," Kirby said. "Most of the revenues from the tickets police officers give out go to the courts. Yet, the personnel in the Fire Department want to create a revenue flow. They're trying to extract money from the ambulance service, but what they don't know is that money has to go into the (city's) general fund."
Kirby said he based his comments on "multiple conversations with firefighters."
Kirby and Childers said the city is being inconsistent in its enforcement of response times. City officials have been critical of First Response while they're letting the Fire Department not respond to non-emergency calls as required by the city ordinance.
"Their response times are at 93%, but, if they responded to non-emergency calls like they're required to do, the Fire Department's average would drop to close to 50%," Kirby said.
Grande said his department consistently makes its required times.
Alexander said the complaint about the fire department response times is a diversionary tactic aimed at taking the focus away from First Response's inability to meet the city's response time requirements.
"We're not in the transporting business and, the fact is, our trucks shouldn't slow First Response down unless their ambulance is following a firetruck to a scene," Alexander said.
Response standards
Childers and Kirby said the city should follow the National Fire Protection Association's 1710 standard.
If the city used this national standard that gives EMS personnel an extra 60 seconds to get to their ambulance, First Response's 89.51% fractal response time would increase to 93.78%, Childers said.
Alexander said NFPA is one of several national standards available. He and Bibbee said Childers knew what the city's response time requirements were when First Response began operating in Decatur in 2012.
First Response's move to the city put them in competition with Decatur Emergency Medical Services Inc.
"We've not changed and they (First Response) were consistently making their times in the first two years," Alexander said. "But they haven't made their times since DEMSI filed for bankruptcy, and there's nothing we can do about it in the current ordinance."
Grande and Alexander said they think First Response can solve this response time issue by putting another truck with the necessary personnel on the road in each shift.
Grande and Alexander said this issue isn't about anyone's desire to penalize or run a company out of business. Both said their focus is about creating an ordinance in which the city gets great response times so safety is improved.
———
©2019 The Decatur Daily (Decatur, Ala.)
McClatchy-Tribune News Service