Firefighter ditches junk food to become bodybuilding world champ
Firefighter Gordan Adam came second in a world-wide competition to find the ultimate muslce man
---
By Jen Lavery
Evening News
WEST LOTHIAN, Scotland — He's hot stuff. Muscle-bound firefighter Gordon Adam, 29, has been named one of the world's top drug-free bodybuilders following a harsh training regime which has seen him ditch pizza and curry treats for the gym.
Super-fit Gordon has just been declared Mr. Scotland and came second in a world-wide competition to find the ultimate muscle man.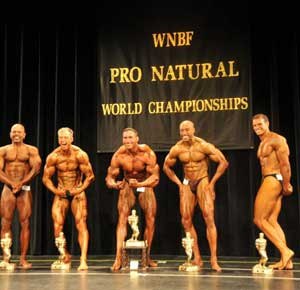 But he says the challenge has been tough, especially as he has had to endure ribbing from his pals at Bathgate Fire Station where he works.
"I get a good bit of stick from them," he said. "I love my food, so I have to admit being on a diet can make me quite moody, which they find very amusing.
"Often when we're all on night shift someone will cook dinner for everyone - well, almost everyone. They're all sitting there tucking into pizzas or having a lovely curry and I'm stuck with my chicken and broccoli. They loved to wind me up about it, but they have said they are glad I'm back to normal now."
Incredibly, Gordon, of Livingston, only entered his first competition last year after seeing a friend appear in a show in 2010.
Though he set himself a goal of being one of the top three Scottish qualifiers for the 2011 British Natural Bodybuilding Federation Championships, he eventually exceeded his own expectations when he was awarded first place in the heavyweight category for both Scotland and Britain, and was then crowned overall Mr Scotland.
He was invited to travel to Atlantic City in the US to compete in the World Natural Bodybuilding Competition on the UK team, eventually trouncing competitors to finish second in the heavyweight division.
He said: "I was beaten by a big American guy - they're all massive over there! The whole experience was fantastic and I was really pleased with my performance. It's amazing to think you are second in the world."
Natural bodybuilders - unlike those who compete in "untested" competitions - are subject to both a drug test and a polygraph before competitions, to prove that their physique is the product of nothing more than hard work.
Gordon, who worked for LA fitness for six years before joining the fire service, said: "There are lots of untested events, and the irony is that people who compete in those actually make a lot more money than natural bodybuilders. More people are willing to pay to see them as they have grown their muscles to really freakish sizes. For example, in a recent natural competition the winner got about GBP7000, whereas the winners of untested competitions can make hundreds of thousands for coming first. It's very frustrating.
"People often ask me if I'm going to go professional and give up my firefighting job, but there's no way I could make enough money from it simply because I'm not willing to risk my health by using steroids. The potential risks are massive and I don't feel it would carry the same sense of personal achievement."
Gordon will now be taking a year off from competing so he can fully prepare for a return to bodybuilding in 2014.
He said: "Last year I was basically on a diet for ten months, and this year I was on one for seven. I was also training constantly, so it was a very big commitment. I feel if I take a some time off I can be properly centred when I come back in 2014."
Copyright 2012 The Scotsman Publications Ltd.
All Rights Reserved