Mich. town stops sending FFs on medical calls, citing financial concerns
Officials told concerned residents the town's contracted EMS provider will still respond to the calls
---
By Laura French
OTSEGO TOWNSHIP, Mich. — A Michigan township has decided to stop sending firefighters on medical calls, hoping to spare expenses.
Otsego Township Supervisor Bryan Winn said he believes sending both firefighters and Plainwell EMS, which has a contract with the town, to medical calls is unnecessary and hopes the decision will save taxpayers' money, according to FOX 17.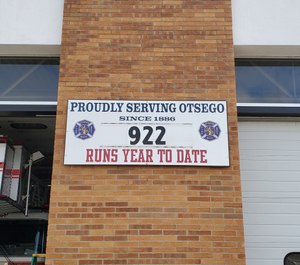 "We have a responsibility to the residents of this township as a board to use our resources to their greatest extent. Paying twice for the same service is not using those resources in a wise way," Winn told FOX 17.
Winn estimated the change would save the town more than $54,000 per year.
Otsego Fire Chief Brandon Weber said the decision came as a shock and that he did not know the town was considering ending medical calls at the department.
He said that while reducing firefighters' call volume might help prevent burnout, service could suffer due to about 10 percent of calls not being covered by Plainwell EMS, requiring outside services to come from further distances.
Weber suggested the town should search for more ways to raise funds if money is a concern.
Winn said he has gotten multiple phone calls from concerned residents but that he assures them their medical calls will still be answered. He said the money saved may be used to hire a new police officer.
The change goes into effect on June 30.