Rural Wis. towns vote to fund shared full-service fire/EMS
The six municipalities will sign an intergovernmental agreement and then the three departments that cover those areas will work on an operational plan
---
Jonah Beleckis
The Janesville Gazette, Wis.
WALWORTH COUNTY, Wis. — Walworth County voters agreed Tuesday to throw a life preserver to almost all of the communities that floated referendums to better fund emergency services, which have been struggling to stay above water.
Needing all communities to support the endeavor, the villages and towns of Sharon, Darien and Walworth approved a plan to exceed their levy limits to establish and maintain a third-party contract for full-time paramedic-level emergency medical services.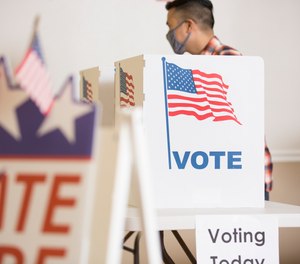 "We're feeling very good and positive," said Bruce Vander Veen, chief of the Sharon Fire/EMS Department. "We've been humbled and pleasantly surprised by our community support, and we're anxious to get to work on our program."
Funding and staffing issues have plagued small fire/EMS departments for years, and community leaders have expressed concern about their ability to respond to emergencies.
Voters Tuesday approved the referendum with these percentages:
Village of Sharon: 65%
Town of Sharon: 76%
Village of Walworth: 59%
Town of Walworth: 61%
Village of Darien: 67%
The town of Darien did not need to put the question on the ballot because it already has the necessary finances, Vander Veen has said.
He said Wednesday that the six municipalities need to sign an intergovernmental agreement, and then the three departments that cover those areas will work on an operational plan.
That could cover topics such as developing response plans and everyday duties, as well as getting the dispatch center up to speed. The communities might encounter some problems early on because this will be a "growing and learning experience" for everyone, he added.
A contract with Metro Paramedic Services needs to be settled after the intergovernmental agreement, but Vander Veen said "most of the groundwork is done" on the contract.
Vander Veen also said they need to hire six people, although he stressed that the paid-on-call volunteer staff will still be "vitally important." At his department in Sharon, he said leaders will need to increase incentives for paid-on-call members, such as by raising pay.
"It's still a job that requires a fair amount of people," he said. "But this (referendum) should relieve the daily pressure and hopefully relieve the burnout and keep our paid-on-call involved longer."
The two full-time staffers per shift who will be added as a result of the referendum will be working with everyone else. Vander Veen said he thinks his staff will welcome the assistance.
They have a goal to be ready by Jan. 1.
"We're trying to hit the ground running," he said.
Other Walworth County communities that had referendums related to fire/EMS funding saw mixed results.
Fifty-one percent of Elkhorn voters and 60% of town of Sugar Creek voters supported referendums seeking more money "for the purpose of enhanced fire and emergency medical services."
The town of Geneva, however, did not pass that referendum. Fewer than 45% of voters supported the measure.
Town Chairman Joseph Kopecky could not immediately be reached for comment Wednesday.
Elkhorn City Administrator James Heilman said the town of Geneva must decide how it moves forward.
Even though all the referendums did not pass, the city is still expecting to contract with the town, "But obviously the cost of services will go up, and they'll have to meet those costs."
Heilman said it was hard for the city to put together a good public safety program with the resources it had before the referendum. But this change should help response times as the city's fire department can have "eight people in the house at a given time around the clock."
"Time matters in public safety more than anything else—well, that and having knowledgeable people on staff," he said. "There will be substantial benefits to this."
___
(c)2020 The Janesville Gazette (Janesville, Wis.)
McClatchy-Tribune News Service