22 rescue units in Pa. get over $250K in grants
The Office of the State Fire Commissioner awarded nearly $258,000 in grant money to 22 fire and rescue units
---
Chuck Biedka
The Valley News-Dispatch, Tarentum, Pa.
HARRISBURG, Pa. — Buffalo Township's volunteer fire department won't need to rely as heavily on bingo proceeds to cover expenses, based on state grants announced last week.
The Office of the State Fire Commissioner awarded nearly $258,000 in grant money to 22 fire and rescue units in Armstrong, Butler and Indiana counties, including $13,987 to Buffalo, according to state Rep. Jeff Pyle, R-Ford City.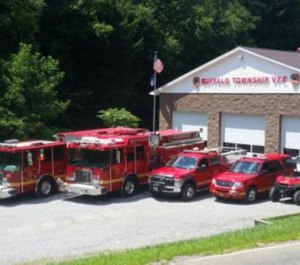 Buffalo Fire Chief Matthew S. Cypher said the money will help the department more quickly pay off a loan used to buy $74,000 in rescue equipment two years ago, saving money on interest.
The equipment included tools commonly referred to as the "jaws of life," because they can help emergency responders cut people out of mangled vehicles after crashes.
"The (new) pieces are 20 percent lighter and that makes it easier for smaller firefighters to use," Cypher said, adding the new equipment is six more efficient and that can mean the difference between life and death in a rescue operation where every second matters.
Buffalo also is using the grant money to help it expand fire truck bays, resurface floors and install a door at its station.
The Buffalo department has paid off its mortgage, trucks and other equipment, according to Assistant Chief Richard Schwartz.
Schwartz said the grant means the department, which has 25 active volunteers, won't have to depend so heavily on weekly bingo proceeds.
Sarver relies heavily on 50-50 raffles at the Lernerville Speedway and a gun raffle to help pay for operations, according to Chief Bill George. It received a $13,822 grant in the round of funding announced last week.
In addition to fires, George said his department's volunteers routinely respond to crashes along busy Route 356.
"It's a high-traffic area. We have to keep the equipment in top-notch shape," George said. "We're also next door to the Buffalo-Freeport Trail, so we have a UTV (a utility terrain vehicle) and trailer."
Training is also a necessary expense, he said.
Among other local departments, North Apollo ($11,843), Kiski ($11,678), Gilpin ($11,513) and Freeport EMS ($7,155) are also getting grant money, according to Pyle.
———
©2019 The Valley News-Dispatch (Tarentum, Pa.)
McClatchy-Tribune News Service