How to hire a fire grant writer
Here's what to look for and how to evaluate potential fire grant writer candidates
---
The FireGrantsHelp.com Grant Writing Service is a custom, comprehensive solution to fully execute on the coordination and creation of high-quality grant applications. The full program allows your organization the ability to secure grants that will be used to purchase equipment you could otherwise not afford.
To speak with one of their team members about your project and receive a quote for services, please visit FireGrantsHelp.com.
One of the most frequent questions I get asked is, "We haven't been funded by AFG for years, would our department be better off to hire a grant writer?" Some people may think that the answer to that question should automatically be, "yes," but that may not always be the best answer. In fact, hiring a grant writer for the wrong reasons or hiring the wrong grant writer will not improve your chances of getting your application funded.
What to look for when contacting with a grant writer
The best reference when searching for a grant writer are your neighboring fire departments. If any of them have used a grant writer's services in the past, this is an excellent place to start. Other possible sources might include firefighter organizations in your county or state, or friends with other departments.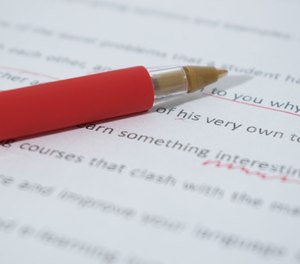 Once you have selected a potential candidate or candidates, begin the selection process with an interview, and secure a copy of the potential grant writer's resume and a list of references. Next, schedule the interview either in person or via a conference call. Before the interview, contact their references and ask what specific type of grants or services the potential writer provided them.
The most important thing for both the interview and when contacting references is to determine if the potential writer has previous experience in writing for this type of grant and experience in writing for your specific project. Too often, departments are more concerned about the grant writer's winning percentage and less concerned about the types of grants the person has written. There is a big difference in writing successful AFG grants and writing block grants for a community.
There is also a huge difference between a PPE grant for AFG and a 10-department regional grant for SAFER. People too often mistakenly think that all grants are the same and if you can write one, you can write all the different types that are available. This is far from the truth and many times, departments are unhappy when the high school English teacher can't get their turnout gear grant funded from AFG.
Another important question to ask the potential writer is "How many applications do you normally write?" The answer to this question is important because it is a lot easier to manage your grant writing when you are doing only a few applications as compared to trying to schedule 25 or 30 applications to be completed by the deadline. You should also determine if the person you are interviewing will be writing your grant or if they subcontract their work out to other writers. If they do subcontract, you need to know exactly who will be writing your grant and their level of experience.
Other things to consider when hiring a grant writer
Once your department has reviewed the potential writer's previous experience, there are other factors to consider. First, your grant writer should be able to tell you in writing exactly how much their grant work is going to cost. They should also have a contract detailing their responsibilities and your department's duties available for you to review prior to hiring them.
They should also be willing to provide you their EIN number or Social Security number so that your department can provide them with a 1099 form if they are being paid more than $600. They should also verify that neither they nor their firm are debarred from doing work with the federal government. SAM contains a list of debarred individuals and companies if you want to double check their information.
If the grant writer hesitates or won't provide you with these documents, don't hire them. Also, be very suspicious of any grant writer that wants to do the work for nothing or that tells you that you can pay them by buying the funded equipment from him if you get funded. This is illegal.
Yes, even with a grant writer, you will have work to do
Too many people are under the impression that hiring a grant writer means that the department will not have to do any work for the application. This is completely false. Your department will need to provide the grant writer with background information on:
Your department
Your call volume
Your department's budget
Why the new item is needed
Why you can't pay for the new item from the department's funds.
You will need to get cost estimates and make decisions on the estimate that you think is the best. You may need to complete certain sections of the application yourself or provide the grant writer with this information, so they can do it.
Finally, you need to remember that even with a grant writer, the accuracy of the department's application is your responsibility and not the grant writer's. You should check the entire application before it is submitted. If false information is included in your application, the funding agency will come after your department and not the person who wrote the grant.