Vt. firefighters wage campaign over smoke detectors
---
The Associated Press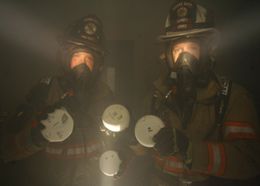 AP Photo/Toby Talbot
Barre, Vt., firefighters display a variety of smoke detectors as part of their campaign.
BARRE, Vt. — When a fire killed a mother and four children here in 2005, there was something peculiar: As firetrucks arrived, the apartment was full of smoke and had a working smoke detector, but it wasn't sounding its alarm.
Months later, Fire Chief Peter John found out why. The smoke detector was an ionization smoke detector — like those in 90 percent of American homes — that has been shown to react slowly in the presence of smoldering fires.
Now, John and others here have signed onto a campaign to publicize the benefits of photoelectric smoke detectors they say sense smoldering fires better, which Deputy Fire Chief Joseph "Jay" Fleming of the Boston Fire Department says he's been trying to tell industry groups and the government for years.
Now John, his deputy chief, Russell Ashe, and other Barre firefighters have signed on to Fleming's campaign to alert the public that the other main type of smoke detector — called a photoelectric — has been shown to sound earlier in smoldering, smoky fires, giving people more time to escape.
"My department's on that mission and I've joined right in on it," John said.
Fleming estimates that nationwide, up to a third of more than 3,000 people a year who die in fires might have escaped if they'd had a photoelectric smoke detector, rather than an ionization smoke detector.
The 2005 Barre fire was an example: A fire smolders for hours, filling a dwelling with deadly smoke before an ionization detector goes off.
Fleming and his allies appear to be making progress, though not as much as he would like.
In recent years, several national groups have come out with advisories saying that for the best protection, both kinds are recommended.
Photoelectric smoke detectors contain a light source and a light-sensitive electric cell. Smoke entering the detector deflects light onto the light-sensitive cell, triggering an alarm.
Ionizing sensors contain a small amount of americium-241, a radioactive material. It is used to set up a small electrical current between two metal plates, which, when disrupted by smoke entering the chamber, sounds the alarm.
People on both sides of the debate are quick to say every home should have some type of smoke detector on every floor.
The devices have cut residential fire deaths in half in the past 30 years. Evolving standards for what's best now say the detectors ideally should be placed outside each bedroom and inside as well.
Supporters of photoelectric detectors acknowledge that ionization detectors often sound their alarms sooner in an open, flaming fire, but by less than the margin by which photoelectrics beat ionization detectors in smoldering fires.
The National Institute for Standards and Technology tested the two technologies in 2004 and found that ionization smoke detectors sounded in fast, flaming fires an average of 50 seconds earlier than photoelectric detectors.
NIST also found that photoelectrics sounded their alarms, on average, 30 minutes earlier than ionization detectors in smoldering fire.

more stories like thisFleming and his allies also argue that ionization smoke detectors are too easily set off by cooking fumes or steam from showers, and that such "nuisance alarms" prompt people tend to disable them, leaving no alarm protection at all.

His warnings, he said, have fallen on deaf ears — until recently.

"The federal government has known about this problem since at least 1980, and have never done anything about it," he told Vermont lawmakers recently.

A spokeswoman for the Consumer Product Safety Commission, a prime target of Fleming's criticism, would not address his concerns in detail.

"Smoke alarm technology and education is a priority for the CPSC," said agency spokeswoman Arlene Flecha. "We don't have any response to Mr. Fleming's comments."

Two other targets of Fleming's criticisms, Illinois-based Underwriters Laboratories Inc. and the Massachusetts-based National Fire Protection Association, say they've tried to respond to Fleming's concerns, but that their groups are deliberative and careful before recommending one type of product at the exclusion of others.

John Drengenberg, manager of consumer affairs at UL, told a Vermont Senate committee that his nonprofit product-testing firm now is recommending that people install both types.

Testing by UL last year supported results obtained by the National Institute of Standards and Technology in 2004 that showed ionization detectors sounded sooner in open, flaming fires and that photoelectrics sounded sooner in smoldering fires, Drengenberg said.

No one knows in advance which type of fire might strike — or which type of detector will work better, he said.

Newer "combination" alarms on the market contain both photoelectric and ionization sensors, but Fleming said the combination detectors are prone to the "nuisance alarm" problem.

A bill pending in the Vermont legislature would require photoelectric detectors in new construction in Vermont. Combination detectors could be used, except near kitchens and bathrooms, where nuisance alarms are a problem, according to state Sen. Vincent Illuzzi, R-Essex-Orleans, whose committee has been studying the issue.

"The best protection is to have both types in your homes," said Ashe.