Conn. town recognized as HEARTSafe Community for EMS commitment to cardiac response
Mansfield was recognized for its ongoing commitment to using CPR and defibrillators to save lives
---
Michelle Firestone
The Chronicle, Willimantic, Conn.
MANSFIELD, Conn — The town was recently redesignated as a HEARTSafe community in recognition of its work to help patients suffering from cardiac arrest.
The redesignation, which was awarded by the state Department of Public Health Office of Emergency Medical Services and American Heart Association, will last for three years.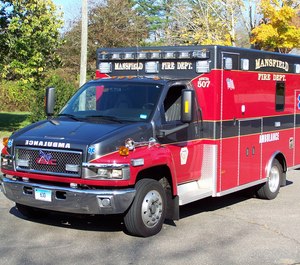 It was announced late last month.
Mansfield was recognized for its ongoing commitment to using CPR and defibrillators to save lives.
"It's significant because it recognizes what our emergency services personnel do," Mansfield Mayor Paul Shapiro said.
The town's award will be displayed in the fire and emergency services office in town hall.
According to the Connecticut EMS Council website, Mansfield's prior designation expired Jan. 4, 2019.
"The largest number of calls to 911 are health-related, not fire-related," Shapiro said, speaking about Mansfield's emergency services. "Our personnel are constantly trained and re-trained to use best practices in responding to cardiac arrest calls and this is a very strong, positive reflection of both their priorities and the quality of services that they deliver to our town's residents."
Mansfield Fire Department Chief Francis Raiola, who was fire marshal and emergency management director before becoming fire chief, said the town has been designated a HEARTSafe community for at least 10 years now.
He said, every few years, the town has to submit paperwork and apply for re-designation.
Raiola said the honor is given to communities who "make a commitment to both prevention, treatment and care for cardiac arrests."
He said, under state regulations, automated external defibrillators (AEDs) are required in certain buildings and are currently placed in the schools, gyms, community center, town hall and library.
An AED is a device used to administer an electric shock throughout the chest wall to the heart and is used to treat a heart with an irregular heartbeat.
" Most all of our buildings have AED's in them and we have a system throughout town where we have the trained staff to be able to respond in the event that something happens," Raiola said.
He said, in addition to measuring the responses of fire, EMS and paramedics, the designation recognizes training opportunities offered for community members in CPR and AED.
"We do some throughout the community and we have a community center that's been very active in training folks to do that," Raiola said.
———
©2019 The Chronicle (Willimantic, Conn.)
McClatchy-Tribune News Service