7 ways Enhanced CAD Relay makes dispatch more effective
The eDispatches service now offers CAD integration for more complete notifications and one-touch mapping on mobile devices
---
The following is paid content sponsored by eDispatches.
By FireRescue1 BrandFocus Staff
For more than a decade, New Jersey-based eDispatches has provided a service that pushes audio dispatches to individual firefighters' cellphones and landlines to prevent missed calls.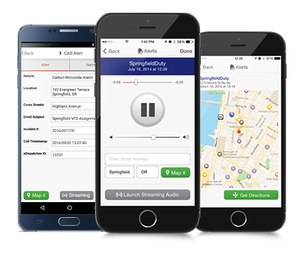 Now the service has expanded to integrate with computer-aided dispatch systems. These Enhanced CAD Relay alerts provide responders with complete call information straight from the dispatch center, as well as one-touch mapping in the eDispatches app. The app is free for subscribing clients.
Key benefits of the Enhanced CAD Relay service include:
1. Custom parsing
CAD information often includes jargon or symbols that responders don't need. The eDispatches system includes custom filters for each client agency that remove unnecessary verbiage so responders get only the information they need.
"When it gets to the end user, they're seeing it in plain text that makes sense to them," said Peter Grammatas, technical support manager for eDispatches. "All of the information they need to respond to this alert is right there in plain English."
2. One-touch mapping
Enhanced CAD Relay alerts include the address and cross streets, and the application is integrated with existing GPS mapping apps (Google Maps, Apple Maps) to enable one-touch mapping.
"Users can just hit 'Map It' and it will actually give them directions on how to get to that call," said Grammatas. "They can do it right within our mobile app, and then the phone will take care of the rest."
3. Information for reports
Enhanced CAD Relay provides additional information that helps with after-action reports, such as incident number, call type, responding engines and more. This information is entered by the dispatcher but may not be announced over the radio.
The CAD messages deliver this information to provide a more complete picture so report-writers don't have to rely on memory, said Grammatas.
4. Easy account management
The eDispatches system is configurable according to department size and needs. Contact information and settings are managed through a designated account administrator via the eDispatches web portal or app. Local administrators decide who receives alerts, and individual users can manage how they receive them.
"Right from their iPhone or Android devices, the end user can modify or change how they receive alerts," said Grammatas, "so if you're on vacation and you don't want to be bothered, there's an easy way to just turn it off."
5. Easy to use
The Enhanced CAD Relay functions on any phone, anywhere. Users without smartphones can elect to receive text messages that provide the information without the mapping feature, as it requires a GPS-enabled phone. Dispatches can be received anywhere in the world where an individual user has a cellular connection.
6. No equipment to buy
eDispatches provides all the equipment necessary to run the service as long as a department subscribes; the department just needs power and Internet access.
Users pay only the subscription fee, and there are no system limitations on the number of responders who can be notified simultaneously. Pricing is scalable based on the agency size, and there are no contracts.
Departments receive a free 30-day trial prior to any commitment.
7. Customer service
Most eDispatches employees have worked as volunteer or career first responders, so they understand what first responders need, and they actively seek feedback from customers.
"We ensure that the customers are satisfied with the service, things are working correctly and we resolve any questions or issues," said Grammatas. "We want this service to help and save lives, save property, and the best way we can do that is hearing from our customers."
Getting dispatch calls out to career and volunteer firefighters is critical. Enhanced CAD Relay marries the existing eDispatches service with a department's CAD capabilities so users get the full benefits of everything in one device.

Request information from eDispatches
Thank You!