Can technology find firefighters in buildings?
It's the Holy Grail of firefighter accountability — a technology that pinpoints their location inside structures — and the search isn't easy
---
Editor's note: This multi-part article will explore the problem, the technologies used, issues for agencies to consider, and some of the vendors and government programs that have addressed locating emergency responders inside buildings.
By John Facella
Being able to locate first responders inside  buildings has been a long sought-after goal, especially for the fire service. But law enforcement, especially SWAT teams, and in some cases EMS, may also need to know where personnel are deployed in a large building.
First responders need to be able to transmit their location to central dispatch, and to the incident commander in many cases, so that additional resources can go to the correct location to assist, and if the responder gets trapped or injured themselves, they can be rescued.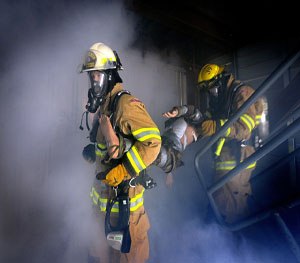 Because incidents can occur anywhere within a jurisdiction, whatever location system technology is used, it has to meet these criteria.
Easy to use, and begin working immediately upon arrival on scene, with minimum setup time.
Work inside buildings or tunnels that do not conduct radio waves well or at all.
Have a battery life of at least several hours.
Be physically robust and able to withstand water, heat, falls, changes in air pressure from fire heat or explosions (from the fire, or concussion grenades, bombs, etc.), and hazardous environments.
Have vertical location accuracy such that the floor can be clearly identified and horizontal accuracy within a reasonable search pattern.
Maintain accuracy with various modes of motion including walking and crawling, both horizontally and up and down stairs or ladders.
Maintain accuracy for 20 to 30 minutes and for distances of several hundred feet or 100 meters.
Complex Problem
Unfortunately, the problem is quite complex and has eluded radio engineers for years. Such systems generally depend either on external signals to determine location via triangulation methods (like GPS), or via "dead reckoning" whereby if a person starts from a known point, by tracking the turns and twists taken, the current location can be calculated.
GPS satellite signals will not penetrate most buildings, so it is generally of no use. Various methods to triangulate signals from cell towers, radio or TV stations have been proposed, but they suffer a similar fate of not reliably penetrating the bowels of many buildings, or subway tunnels. 
Various schemes for setting up special transmitters outside the building and beaming in signals have been proposed. But they suffer the problem of setup time during arrival at the incident when crews are busy with other duties, and the need for first-due apparatus to have such transmitters stored on board. 
In today's world of reduced budgets and staffing, this scheme is not viable.
Dead reckoning
To date, most efforts have focused on the second approach, using dead reckoning. Such systems generally have three major components. 
A unit worn on the first responder, called an inertial motion unit, that tracks responders' turns and twists from a known starting point.
A radio link of some sort to relay the location information outside the building to the incident commander, despite the building construction reducing the signal substantially.
A digital display with software to depict responders' location on a map or building diagram in two and three dimensions.
Inherent in this dead reckoning system are two other requirements. First, that responders can initialize their exact starting points outside the building quickly and easily.
Second, that the depiction of the building or tunnel on the display can be made to closely resemble the structure they are in, very quickly once on scene. 
There are various ways that this is accomplished, either by importing building schematics in certain formats, or by the incident commander being able to quickly draw a skeletal picture of the structure.
In the next part of this article, we will explore some issue for fire departments to consider.

Request product info from top Fire Communications companies
Thank You!