8-minute 911 hold times in St. Louis due to dispatcher shortage
"You have reached the 911 center for the city of St. Louis. All operators are busy at this time. Please do not hang up. Your call will be answered in the order received."
---
Erin Heffernan
St. Louis Post-Dispatch
ST. LOUIS — On a recent afternoon, just two dispatchers were tasked with answering all St. Louis 911 and nonemergency police calls for their full eight-hour shifts.
The 911 wait time about 3:30 p.m. that day was eight minutes, with the longest hold time glaring at the dispatchers under a red line on their computer screens.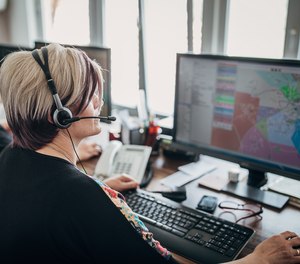 Waiting callers got the same message on repeat: "You have reached the 911 center for the city of St. Louis. All operators are busy at this time. Please do not hang up. Your call will be answered in the order received."
Employees at the 911 center say little has changed with operations despite city promises earlier this year to improve staffing after months of critical news coverage about long wait times.
St. Louis police in February announced a series of technology upgrades to improve city 911 in response to coverage by the Post-Dispatch and other media. Five months have since passed and the city has ushered in a new mayor, Tishaura O. Jones, but 911 call data and interviews with dispatchers show the situation has not improved. Both short-term and long-term efforts to improve 911 service have so far stalled, including proposals to merge the city's separate police and fire 911 centers.
The Post-Dispatch reported in February that the city was far below national standards that recommend 90% of 911 calls be answered within 10 seconds. This year from February through May, the city placed about 36% of calls on holds of 10 seconds or more, according to police department data. In that same four-month period, 21% of callers waited at least 40 seconds and about 5%, some 6,000 callers, were on hold at least two minutes waiting to reach a dispatcher.
Staffing also has not improved. Police last week said about 30% of its dispatcher jobs, 28 positions, remain vacant, three more vacancies than the Post-Dispatch reported in April when retiring 911 manager Maureen Ramsey told the newspaper of severe staff shortages.
"We're the lifeline for the department, for the officers, but they forget that," Ramsey said at the time. "They haven't treated us equal and now the people in St. Louis aren't getting what they're expecting when they call 911."
St. Louis interim Public Safety Director Dan Isom, who oversees both the police and fire departments for the Jones administration, said the city has been focused on hiring to improve delays, but it's been a case of taking one step forward and two steps back.
"Unfortunately it's a numbers game and right now we're approaching the most active part of the summer and we've hired people, but at the same time people are leaving and retiring," Isom said.
He said he's continuing to push for pay raises and more hiring, but the 911 system also has a larger structural problem — the separate 911 centers for police and for St. Louis fire and EMS.
It was a system set up when the police force was under state control and the fire department was run by the city, but the two centers have resulted in delays for years, according to city records.
All 911 calls come into police and many have to be transferred to fire and EMS, while the understaffed police dispatchers still have to stay on the line through the duration of a call.
Documents obtained this month show plans to address the situation have been pushed off or blocked by administrative constraints within the last year, but Isom and Jones said they are committed to addressing the inefficiencies.
"My goal in the next budget year is ultimately to figure out how to combine them," Isom said. "We need to get it done."
Jones said in a statement that she considers 911 service a priority and has supported combining police and fire dispatch centers.
"The people of St. Louis want to know they'll get a rapid response when they call 911," she said. "We are exploring new avenues to ensure that calls for emergencies are answered quickly and dispatched to the right professionals."
Stopgap blocked
Isom had a plan to improve wait times.
As public safety director and a former St. Louis police chief from 2008 through 2012, he had long heard proposals to combine police and fire 911, but knew a consolidation would take months or years.
As an emergency stopgap measure, Isom decided to have fire dispatchers train to work police dispatch on overtime to prevent dramatically understaffed shifts.
A group of fire dispatchers started the training this spring, but the program was ended after only a few days because fire and police employees are members of separate unions and city departments, according to police 911 center staff. City and union contract rules prohibit fire and police employees from working and getting overtime pay in departments outside their own, though 911 calls into the center are for both departments.
"It would've solved the immediate problem," Isom said of the proposal.
With that idea on hold, Isom said he's considering installing a new call filtering service that would have 911 callers press one number for police and another for the fire department to ease the burden on police dispatchers and curb delays, but those plans have not been solidified.
There's another fix Isom is considering this year: Higher pay.
Isom said he hopes to evaluate the pay schedule but it "takes some time" to get approved through the city.
Letters obtained by the Post-Dispatch this spring show that police Chief John Hayden has been appealing to the city personnel director for dispatcher pay raises since at least November 2018, when he wrote that understaffing already made it "difficult to maintain public safety standards that are critical to our accreditation."
Dispatchers got a substantial raise in February 2020 when then-Mayor Lyda Krewson raised the minimum wage to $15 an hour for all city employees, bringing the starting salary up to $31,200 from $25,870.
The city in February then approved another pay bump to raise the starting salary to about $38,000 from $31,200.
But the latest wage increase applied only to new employees. While entry-level salaries jumped by thousands, many dispatchers with five to 10 years on the job still make about $40,000, not much more than those going through the 11-month training period.
In part because of this and the increasing demands, several experienced dispatchers have quit or retired in recent months, according to two dispatchers who asked for anonymity in speaking with the Post-Dispatch for fear of disciplinary action.
Isom said he's optimistic there's a way to combine police and fire 911 staffs to ease the burden.
The union representing police dispatchers, the St. Louis Police Officers' Association, also voiced some support for the idea.
"There are some union representation issues that would have to be worked out," the union's business manager Jeff Roorda said. "But we'd find a way to make it work because ensuring that there's someone on the other end of the phone when a citizen calls 911 or on the other end of the radio when a cop screams for help is our No. 1 priority."
Roorda added, "We just wish the police administration and City Hall shared that priority and started treating 911 understaffing like the urgent crisis it is."
Long-term plans stalled
For at least 14 years the city has debated a larger, multimillion-dollar project of fully merging police and fire 911 centers in a new facility.
That project on the city's list of capital improvements is estimated to cost about $32 million.
Some work has started on the proposal. In November 2019, the city hired FGM Architects to create a design for a combined center, known as a Public Safety Answering Point.
The firm was paid about $115,000 before the contract was paused by the city when the COVID-19 pandemic hit and has not restarted, St. Louis Budget Director Paul Payne said.
From design to completion, the project would likely take about three years, St. Louis Board of Public Service President Richard Bradley said in a March capital improvements meeting.
It's not the first time the city has considered acting on plans to combine 911.
The city in 2008 hired a different architecture firm, L. Robert Kimball & Associates, to do its own design review. The firm's report said the aging 911 technology and separate dispatch operations needed to be merged. The separate operations created "huge economic and public safety issues for the city," including unnecessary dispatch delays.
"Transfers need to be eliminated and time needs to be saved," the report concluded, recommending that combining 911 centers and employing all dispatchers in a single city department would also make transitioning to new technology easier and less expensive, including the ability for callers to text 911, which the city has still not introduced.
The 2008 report acknowledged barriers, including the high cost and labor issues that "may require protracted negotiations before a resolution can be reached."
Todd Waelterman, the previous director of operations for the city under Krewson and current commissioner of refuse, voiced concern in a March public meeting that the city does not have proper backup 911 facilities.
"Things got to be built," said Waelterman of a new 911 center. "You know in our phone systems and our 911 systems, there's not a lot of redundancy there and it's kind of scary if we have a disaster the way we are now."
Waiting in a crisis
As plans inch forward, 911 callers in St. Louis are still waiting — often in the middle of a crisis.
A witness to a triple shooting was on hold more than 10 minutes in May, KTVI reported. Alderman John Collins Muhammad Jr., 21st Ward, posted on social media that same month that he was "livid" when he couldn't reach police or firefighters to report a building engulfed in flames in his ward. Alderman Cara Spencer, 20th Ward, told the Post-Dispatch last month she was on hold 10 minutes after witnessing a serious car wreck.
Scott Bouchard, who lives in the Gravois Park neighborhood, was among more than 6,000 callers who have been on hold for at least two minutes after calling 911 this year.
Bouchard called on May 6 to report a woman having a mental health crisis in the middle of his residential street about 10:30 p.m. The woman was yelling for help and screaming that someone was after her. Bouchard was also concerned she could be run over.
He sat on hold for six minutes, before the woman eventually left the street on her own. He hung up before connecting with a dispatcher.
"Every minute counts in so many situations, and after that I just worry for myself and for other people because sometimes you don't have much more time than to dial 911," Bouchard said. "What happens then?"
On the other end of the line, the remaining dispatchers are also feeling the strain.
Just about every day in recent weeks, at least one dispatcher is assigned to manage police radio calls for two police districts at once.
And one of the lowest priority calls into the center, alarm calls, have had to wait so long that some security companies have taken to calling dispatch supervisors directly in an effort to get help faster.
"When you pick up calls when it's busy, the very first thing they all say is 'I've been waiting 10 minutes,' and it takes even more time," a dispatcher told the Post-Dispatch this week. "The workload and treatment is horrible. Honestly, I'm thinking of leaving."
___
(c)2021 the St. Louis Post-Dispatch
McClatchy-Tribune News Service
Request product info from top Fire Computer Aided Dispatch (CAD) companies
Thank You!