PRESS RELEASE
Firefighters Bookstore Expands Wildland Preparedness and Awareness Titles
---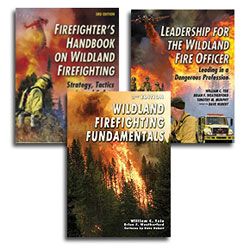 Huntington Beach, CA -- This week we focus on the importance of Wildland Firefighting Preparedness & Awareness. We have 6 highly regarded Wildland Firefighting texts featured.

Bill Teie's Firefighter's Handbook on Wildland Firefighting is the perfect book for your training library. His 34-year career with the California Department of Forestry makes him one of the foremost experts on Wildland Firefighting and Tactics. Make sure you and your team is up to date and has the knowledge. It might just save your life or someone else's.
Be sure to also check out Norman Maclean's, Young Men and Fire. On August 5, 1949, a crew of 15 USFS smokejumpers and how they responded to the call in Mann Gulch, Montana. This fire is considered one the worst disasters of the Forest Service's history. MacLean, a young man at the time of the fire, spent his last 14 years researching what happened that day. What followed as he assembled the pieces is this wonderful book, told as only a masterful storyteller can tell it.
If you or someone you know is looking to get more information on what you can do to prepare for the wildfire season, visit ReadyForWildfire.org. The site offers simple tips and a preparedness toolkit to make your home more resistant to wildfires and to ensure that your family is ready to evacuate early and safely when a wildfire strikes.
Request more info from CURTIS
Thank You!