Cancer survivors invited to visit pink fire truck
Cancer survivors or those battling cancer can write messages on the pink fire truck, ambulance or patrol car
---
By Laura Garcia
Victoria Advocate
VICTORIA, Texas — The pink fire truck will be at two locations Sunday for National Cancer Survivors Day.
Crossroads Guardians of Hope, an organization composed of volunteers, including medical personnel, is hosting free events in Victoria to celebrate.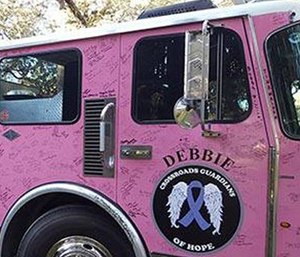 The first event will be from 8 a.m. to noon in the parking lot at Northside Baptist Church, 4100 N. Laurent St.
They'll then move to the H-E-B Plus! parking lot at 6106 N. Navarro St. from 1 to 4 p.m. Sunday.
Cancer survivors or those battling cancer can write messages on the pink fire truck, ambulance or patrol car, and firefighters will offer hugs. Visitors can also sign in memory of loved ones who died of cancer.
The volunteers travel with the pink vehicles all over the Crossroads and as far as Houston for special events and home visits.
"It encourages people that there is hope out there," said Jay Young, the group's executive director.
Young said their goal is to give cancer survivors support. They hold fundraisers to help cancer patients in communities that are struggling. The fundraisers could help pay medical copays or gas money so they can get to appointments.
"Cancer, 10 years ago, you didn't really talk about it," he said. "It was hush, hush. But it's so prevalent now."\
Copyright 2017 Victoria Advocate