Expert panel: Will fire rigs and ambulances see driverless tech?
As driverless or driver-aided technology cuts deeper paths into consumer vehicles, three industry experts discuss if and how that technology can be used in fire and EMS
---

In recent years, driver-assisting technologies have become more prevalent in passenger vehicles. Anti-lock braking systems, automated parallel parking and blind-spot detection systems that alert the driver of a vehicle in their blind-spot if they change lanes are three common technologies.
Autonomous cruise control that slows the vehicle if a vehicle in the same lane slows and automatically increases the vehicle's speed when the other car speeds up or moves out of the same lane; and collision avoidance systems that automatically brake the vehicle if an obstacle is detected while backing or another vehicle stops short in front of the vehicle are two others.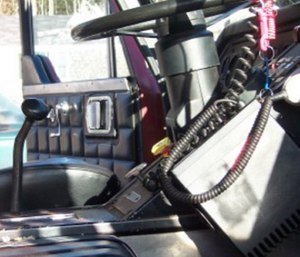 In October 2016, an 18-wheeler truck outfitted with hardware and software from San Francisco startup Otto, made the world's first autonomous truck delivery. The truck, carrying 50,000 cans of beer, traveled 120 miles along I-25 from Fort Collins, Colo. to Colorado Springs after the driver fully engaged the autonomous driving mode.
So, can such technologies eventually find their way into fire apparatus and ambulances? To answer this, I engaged some professionals from the world of fire apparatus and ambulance manufacturing to get their perspectives.
Fire Chief: What do you think of driverless, or guardian angel, technology in general?
Brown: In general, it is exciting technology coming to market. In an effort to prevent crashes and to increase the safety of the occupants in any motor vehicle, this technology coming to market is exciting.
Lyons: Driverless technology is the future. Combined with other safety-related devices, there are some great potential lifesaving benefits. However, like all new technology, it will take time for public acceptance.
We are potentially talking about full automation of the motor vehicle. Americans, especially, have a love affair with their vehicles and part of that is having control over the vehicle. Gunning the engine, downshifting and burning rubber in that first car is almost a rite of passage.
We are seeing Level 1 of driverless technology being introduced slowly as described by the U.S. National Highway Traffic Safety Administration, Classification Level 1, where the individual vehicle controls, such as braking are automated.
Spartan Motors recently introduced their Advanced Protection System in their RV chassis. Recently, at the Florida RV Super Show, Spartan had an RV chassis which was equipped with APS and demonstrated that it would avoid a collision without driver interference.
We also see this technology already in some higher-end automobiles. When the cruise control feature is activated, it's set to maintain a certain speed and distance. When a vehicle moves into the travel lane or the vehicle comes upon a slower moving vehicle, the safety feature kicks in and slows down the vehicle to maintain a safe following distance.
When the vehicle in front moves out of the travel lane or speeds up, the vehicle increases back to the original designated cruise speed. So, advanced driverless technology is going to become very common soon. To what degree and in what industries, that is yet to be determined.
Christiansen: Even though my responses to these questions were typed on a Surface Pro, in general, I'm skeptical of new technology as it applies to fire apparatus. We joke about "300 years of tradition unimpeded by progress," but we all want to use the most reliable components available when building vehicles that respond to life safety emergencies.
In my career, I've seen the introduction of pump pressure governors. While we now have many models of governors that are extremely reliable and widely accepted, the learning curve was long and arduous. If you're old enough, think back to the late 1980s when early models of pressure governors were introduced to fire trucks.
When we integrate an autopilot into fire apparatus, it would be nice not to have to overcome the same type of obstacles. Additionally, we must make sure an autopilot system could be easily serviced once in the field.
The Panel Members

Chad Brown is the vice president of sales and marketing at Braun Industries. Brown has been with Braun for 10 years in various sales roles and has been on the distribution side of the business for eight years working at Life Star Rescue, a Braun dealer for Ohio, Indiana, Kentucky and Michigan. Brown has sold fire apparatus, ambulances, and remounts and refurbishments of both types.

Jim Lyons is the owner of J. Lyons Fire Consultants that provides consultation services to fire departments, municipal government agencies and companies engaged in purchasing and servicing of firefighting equipment and apparatus. Previously, Lyons has worked for various manufacturers and vendors including Ferrara Fire Apparatus, Five Star Fire and SAC Recycling Trucks.

Paul Christiansen is the aerial sales manager at Ferrara Fire Apparatus. A former volunteer firefighter, he has 30 years of experience in the fire apparatus industry. He has worked for Ferrara since 2000 in field sales, product development and sales management.
What are some positive and negative aspects of this technology in emergency response vehicles?
Lyons: I do see benefits for automatic driverless technology systems in fire apparatus. Several years ago, we saw NFPA introduce a requirement for roll stability control due in great part to the vast number of fire apparatus involved in rollovers.
We have seen a decrease in those incidents with apparatus, that have been manufactured with this feature, since this requirement was introduced. The benefit of an automatic breaking system incorporated into an apparatus, traveling at 55 mph, where suddenly a car appears out of nowhere, could be lifesaving.
A potential negative in incorporating this technology into fire apparatus is the cost. Today's modern fire apparatus are among the most highly technical vehicles rolling down our roads and highways. Adding driverless technology safety systems will come with an increase in price.
New fire apparatus is being priced out of the affordable range for many small and rural fire departments. Every time there is a new safety standard adopted, even though they are beneficial, there is a cost associated with it.  
Christiansen: On the positive side, some very basic elements of this technology are already being used in fire apparatus. We have used anti-lock braking and electronic stability control for several years with great success. Another example are the several products available that automatically stop the vehicle when backing, if an obstruction is sensed.
The downside to a full, Level 4 autopilot system, is the great number of variables encountered by fire apparatus as they are maneuvered through traffic. Frequent lane changes, even into turn lanes or empty oncoming lanes to pass cars that all too frequently ignore fire trucks is just one example of the complexity that would be required in the autopilot software.
But beyond the software development, perhaps the largest obstacle to overcome will be the product liability issue. In the event of a system malfunction, as has occurred in passenger cars, what is the fire apparatus manufacturer's exposure?
Brown: I am concerned on how this will work with multiple drivers of the same vehicle. I believe there are some aspects of this technology that can be used as collision avoidance, etc. But to have potentially four or five different drivers of the same vehicle, and the system being able to adapt to each driver's habits, I am not sure how that will work.
What applications do you foresee in your industry for this technology?
Christiansen: There are obvious applications in wildland, aircraft rescue firefighting and other off-road fire apparatus. Being able to sense changes in terrain, an autopilot would prevent drivers from placing the vehicle in an unstable position. At the same time, the autopilot could assist in optimal placement of the apparatus during an off-road response.
Also, apparatus involved in statewide or regional responses could use autopilot technology when being deployed long distances. The crews could arrive on scene refreshed from a nap and not being drained from an all-day or longer drive.
Brown: There are some pieces already being introduced in regard to sensors communicating to the driver for collision avoidance. I believe this can be used in driving with sensors on the body of the apparatus to communicate to the driver for blind spots in driving.
Lyons: I do see a benefit to incorporating Level 1, which is where the driver still has control of the vehicle, but items such as electronic stability control and breaking are automatic when the system deems necessary.
I do not see the fire/EMS industry ever approaching Level 4, which is basically full automation. There are too many variables in driving emergency apparatus so I don't foresee a time where we replace the driver in lieu of full automation. Unforeseen situations occur such as the status of an alarm changes in route, an accident, road closures, etc.
One of the most important benefits to having a person operate the vehicle is that the driver is hopefully familiar with the response area and may know a quicker route to the call than an automated GPS driverless system.  
When would you expect to see some or all your predictions come to fruition?
Brown: The technology needs to be proofed out completely, so for that reason I am uncertain as to when we would see it fully come to fruition. I believe certain aspects are already in application today and the progress of those applications will further be developed to enhance driver behaviors.
Lyons: I would be surprised if we didn't see some level of driverless technology being offered within two to three years. We already have Level 1 in many automobiles today.
Safety is a huge motivator for manufacturers to enhance their products. Firefighter safety committees are constantly evaluating the safety of their members while responding in apparatus. Some purchasing decisions are now being made strictly based upon the safety features offered by one manufacturer over another.
Air bag technology is an excellent example. While air bags are currently not required in fire apparatus under NFPA 1901, some manufactures have made substantial investments in redesigning their cabs to incorporate frontal, side impact and rollover air bag protection systems.
I am seeing more and more fire departments ask for and specify full air bag safety systems in new apparatus and those manufacturers that don't offer them are left out of the bid/buying process.
If manufacturers were to introduce Level 1 technology, such as automatic braking, I feel we will see demand for that feature in great numbers. Just think about a 24-ton piece of fire apparatus responding on a residential street and suddenly it's cut off by someone texting and driving. The automatic breaking feature alone could literally save many lives.
Christiansen: Is there a day when we will see Level 4 autopilot used in fire apparatus? I'm sure there is, but it will be after we see a wide acceptance in the commercial truck market. And that just might be sooner than we think.