How to keep your apparatus and fire equipment safe on scene
A rash of equipment and property theft in fire stations, apparatus and firefighter vehicles calls for guarding your equipment on the road
---
The fire service seems to be the last frontier that needs to be secured at all times – in a day and age where heavy security is present at every business, job site and in mobile work vehicles, the fire service is the last to join in the game.
In the majority of surveys conducted about which profession or professional the public trusts the most, the firefighter or the fire department is usually at the top of the list. We have a high trust factor with the public based upon what we do for them on a daily basis. Our intent is to help them and do them good by them with everything that we do. 
There have been stories reported in the past about firefighter equipment being stolen by individuals while crews and apparatus are on scene, in the station or even just parked somewhere while doing our job. These incidents include everything from fire trucks being stolen for joy rides while parked at a Home Depot, to personal equipment/belongings being taken from the fire truck. Here are just a few examples of fire equipment and personal property theft: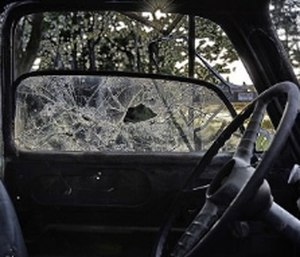 The equipment that we use is vital for our job – without it, we cannot be effective on the fireground. Firefighter equipment has either been purchased with taxpayer money or from funds raised by the department themselves. There is a high cost to the equipment that we use – having it stolen only adds to it.
Strategies to keep fire equipment safe
So, what can we do? One action that we can take while we are on scene or parked in a public place is to have the driver stay with the apparatus. This strategy ensures a set of watchful eyes on the fire truck and the equipment at all times.
But what about when we are on scene at an emergency? This can be a dynamic scene with multiple working areas being used. The police can be utilized to cordon off the area to help keep out those people who do not belong, but they can only do so much. Police tape cannot secure the entire work area at all times.
We need to guard our equipment when we are using it – if we are using hand tools or power tools, we cannot leave them behind to carry on with other tasks. We can radio the driver of the fire truck the equipment came off of to come and pick the equipment up, or we can place it in a place where it will not be as conspicuous, and easy to snatch.
With respect to our personal belongings, it is best to not bring them with us in the apparatus. Leave them at the station, which will be secured at all times in a locked station. When we do need to bring personal items with us on the truck, we can secure them in areas that will not be as conspicuous, but rather hidden.  
Here are some best practices for securing fire apparatus [1-3]:
Guard the vehicle: Whenever possible, assign someone to stay with and monitor the apparatus. When it's not possible, minimize the time you're away from the vehicle.
Lock it down: Lock the doors and external storage compartments (when not in use), put the windows up, take the keys out of the ignition.
Add technology: Install theft prevention controls (e.g., panic button, keyless entry, automatic vehicle locating/tracking system, exterior safety cameras).
Stay visible: Park in locations where the apparatus is easily visible from the scene and to bystanders and law enforcement on scene.
Keep a detailed inventory: Maintain accurate, up-to-date lists of all apparatus and the equipment carried on each vehicle in case of theft.
Our focus is on the getting the job done because time is working against us. Our focus is not on securing our equipment so that some less-than-morale individual will not steal it, but the reality is that there are people out there trying to steal it! Take the steps to guard your equipment whenever you are out in the public on an emergency scene or just out and about.   
References
Friese G. 5 ways to protect your ambulance from theft. Available at: https://www.ems1.com/ems-products/ambulances/tips/806715-5-ways-to-protect-your-ambulance-from-theft/
Avsec R. 4 steps to prevent fire truck theft. Available at: https://www.firechief.com/2016/08/08/4-steps-to-prevent-fire-truck-theft/
U.S. Department of Homeland Security. Emergency response vehicle and equipment security. Available at: https://www.nasemso.org/Projects/DomesticPreparedness/documents/Emergency-Response-Vehicle-and-Equipment-Security-Fact-Sheet-Oct2015.pdf