Ky. fire chief injured after semi crashes into fire truck
The semi's trailer separated when the driver lost control of the vehicle and struck the rig
---
By FireRescue1 Staff
SMITHS GROVE, Ky. — An assistant fire chief was transported to the hospital after a fire truck and semi collided Sunday.
Firefighters were responding to a call when the driver of the truck, Kumar Amandeep, 33, lost control of the vehicle, which overturned and struck a fire truck that was on the side of an interstate, reported WSAZ.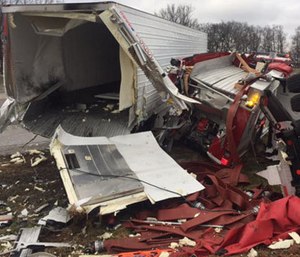 Smiths Grove Fire Chief Kenneth Priddy and Assistant Chief Steven Wilson were in the fire truck when the crash occurred; Chief Wilson was transported to the hospital for non life-threatening injuries. Chief Priddy and Amandeep were not injured in the crash. 
Officials said the fire truck was a total loss; the crash is being investigated.