Would you allow NFL players on top of your fire truck?
Here's where our readers stand on the issue of firefighters transporting Denver Broncos players, spouses and children on top of fire trucks
---
The Denver Broncos Super Bowl 50 parade drew a lot of criticism from firefighters after players, spouses and children were seen riding on top of fire trucks.
Burton Clark, a retired National Fire Academy Executive Fire Officer instructor, book author, 42-year fire veteran, operations chief during national disasters and also a FireRescue1 contributor, expressed his concern on his personal Facebook page.
"If we can't get seat belts right, how can we get the more complex behaviors correct?" Clark asked. "The 300+ firefighters who die due to no seat belts in the last 30 years missed the game and lost again because we did not remember them."
We asked our readers if they agreed or disagreed with Clark's opinion. Here are some of their responses.
And if you haven't already, be sure to add your thoughts in the comment section below.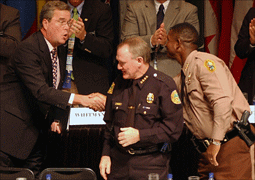 "It's unreal how we need to bring this up during a celebration of a Super Bowl win. Yes, standing on the roof might not have been the best idea. But these "notable fire service leaders" can keep their over-the-top safety comments to themselves. These comments are the root of a bad trend in the fire service with too many safety concerns on everything." — Bo Monson

"It is not safe to ride on top of a fire truck no matter what rate of speed it is going. Years ago, officials stated that firefighters could not ride on the rear of a fire truck while it was moving because of safety reasons. I don't care what the celebration is for. If someone loses their life because of it, who starts yelling then?" — Shirley Somerville

"Was it safe? No. Is everything 100 percent safe? No. Is it about time we started having fun? Yes! My take is: they weren't going fast, their team just won the Super Bowl, let them have a little fun." — Mat J. Nardella

"Safe, perhaps not for those standing on the rooftop. Does this mean we reject carrying Santa Claus, dignitaries and others on fire apparatus? True, safety is paramount and wins most arguments simply by its definition. Where does common sense enter the discussion?" — Paul Molkenbuhr

"Rooftop: No. Not safe. Yes, the truck was going slow, but what if it had to make a sudden stop? There is nothing preventing anyone from falling off and getting hurt. You're putting the city and department at risk for being sued." — Eric Wainright

"This should not have happened. From a safety professional and firefighter, there are many issues with this behavior. Trying to be nice to the hometown winners, but think of the cost if one person fell or is injured somehow. There are many other options to transport these folks in a parade." — Bill Duffell

"The rooftop was not a good idea, but in the bed is normal." — Letha Montgomery Hardyman

"The only problem I have with it is the city getting sued if one of them had fallen off the rig. If you have ever driven in a parade, then you know sometimes someone could come running out, you apply the brakes for a sudden stop and somebody on the roof could have fallen off." — Larry Ramsdell

"To each department their own. My personal thought is unless you have turnout gear on, stay off of our engine. It's a tool for work and reason. It's not a play toy." — Chuck Hull

"In the lawsuit-happy world we live in, had someone been injured, the department would get the blame and the bill." — Jeffrey Rowe