Havis-Shields Announces the New Magnafire 5000™ Space Saving Emergency Scene Light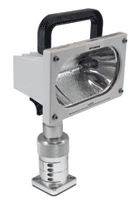 Havis-Shields introduces the New Magnafire 5000™ high-intensity emergency scene light. This latest addition to the Magnafire Series features a smaller space saving design at only 9.18" wide! This compact light is available in many different mounted options including body, brow, pole, & recessed.
The Magnafire 5000™ is available in a portable style as well. The Magnafire Series is known for its superior design, brightness, efficiency, and durability! The Magnafire 5000™ produces more light with less power, reduces maintenance time, saves money, and best of all saves space! Magnafire High Intensity Scene Lights are designed to deliver the best possible illumination on the scene, reducing eyestrain and fatigue. No generator needed for the 12V version!
Contact Havis-Shields today 800.524.9900 or sales@havis.com.