Body armor: The new firefighter PPE
Assessing levels of protection, situations in which to don body armor, and active shooter policies and procedures
---
The free eBook, NFPA 3000: Preparing and training firefighters for active shooter incidents, brought to you by the FireRescue1 Academy, offers a closer look at active shooter response efforts in the context of this first-of-its-kind NFPA standard, including a discussion of body armor for first responders. Download the eBook here.
Additionally, the FireRescue1 Academy features courses like "EMS Response to Active Shooter Incidents (BLS)" and "Terrorism Awareness," providing instruction on responses to active shooter incidents. Complete the courses to learn more about how to increase safety, effectiveness and efficiency at such events. Visit the FireRescue1 Academy to learn more and to schedule an online demo.
By Todd Sheridan
"The sad sign of our times is that when we talk about the fire equipment that we need to think about ballistic vests," said Scranton (Pennsylvania) Fire Department Fire Chief Pat DeSarno in an interview about equipping firefighters with bulletproof vests.
It is indeed a sad moment for public safety when EMS and fire departments have to consider the harsh reality of needing protection while doing their jobs. But that moment is now, and we must consider how to protect caregivers while they are caring for others.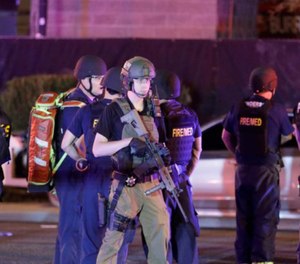 Levels of protection
With the number of mass shootings happening today and the specific violence against EMS and fire professionals, public safety leaders need to evaluate how we respond to these calls – and the equipment utilized. Key questions include what equipment should be worn, when should it be donned, and what policies leaders should consider as it relates to responding to violent scenes.
Determining the specific type of body armor for frontline staff has historically not been a concern for EMS and fire departments, but now there are many variables to consider. Two that warrant immediate consideration are the level of protection and the expected functionality.
The National Institute of Justice (NIJ) developed the Ballistics Resistance of Body Armor standard "NIJ Standard-0101.06, which establishes minimum performance requirements and test methods for the ballistic resistance of personal body armor intended to protect against gunfire." This standard provides six levels of body armor protection, ranging from a stabbing and low-caliber resistant vest to a vest that has been tested to stop a .30 caliber steel core armor piercing rifle ammunition.
Both weight and functionality become a factor as the levels of protection increase. The article "EMS Should Understand the Threat Levels of Body Armor Before Use" summarizes that a type II-A vest is a minimum for full-time law enforcement personnel. However, to be protected for higher-velocity rounds, type II and Type III-A vests are preferable, but they are bulkier and heavier.
Fire and EMS leaders should engage local police departments to assist with this selection. The police department can help with testing for fit, protection, functionality and training.
Finally, cost is also a factor in choosing vests. Purchasing with the police departments may provide better rates.
When to wear body armor
Some violent assaults on public safety personnel are happening during medical emergencies that weren't dispatched as violent situations. When should we consider wearing the body armor? We have seen articles saying that personnel are only required to wear the body armor when dispatched to a violent scene. Is this best practice or are we placing our personnel and organization at risk if they are not worn to all events?
Leaders should engage their legal and risk departments, which can provide clarity to the implications of each decision. Furthermore, EMS and fire leaders should speak with the police department on current policies regarding when an officer is to wear body armor and implications if an officer doesn't wear body armor but is involved in an incident.
Active shooter-related policies
In addition to deciding what level of protection and when to wear the equipment, fire and EMS leaders have to consider the policies needed in trying to minimize the chance that front-line personnel are placed in such a scenario.
It has been said that providers wearing body armor may have a false sense of security and might place themselves in riskier situations. To address both scenarios, leaders need to develop a process where employees can easily report scenarios, and leaders from dispatch, EMS, fire and police should come together, review all facets of the response, and determine what actions should be taken to minimize future risk. At a minimum, these reviews should track time of day, day of week, agencies that responded, call response type, call disposition, notes for what occurred, and lessons learned. Policies can be developed or expanded to ensure the right resource is dispatched, staging procedures are outlined, and response plans are accurate, up-to-date and tested.
Take action to be ready
Unfortunately, these scenarios are continuing to escalate. Organizations need to be vigilant, train aggressively and constantly evolve, as these situations seem to be a matter of when, and not if, they will happen.
If your agency has not taken an active approach on how to mitigate these risks, there are many after-action reports that can help you understand both best practices and lessons learned. Ultimately, we want our teams to be safe, respond to all emergencies in a coordinated effort, treat patients to their best ability, and ultimately go home to the ones who care for them the most.
About the Author
Todd Sheridan, BS, is a senior associate with public safety consulting firm Fitch & Associates. Sheridan has served as the operations director for a large university medical center's EMS system and previously worked in several high-performance fire and EMS agencies. Reach him directly at tsheridan@fitchassoc.com.