How TECGEN PPE's high-tech, lightweight gear is keeping the heat off firefighters
Firefighters get the best of both worlds with the TECGEN PPE brand's alternative to turnout gear
---
The following is paid content sponsored by the TECGEN PPE brand*
By FireRescueOne Staff
The TECGEN brand team has developed personal protective equipment that can provide protection to firefighters when full turnout gear is unnecessary or undesirable but protection from heat is a critical requirement.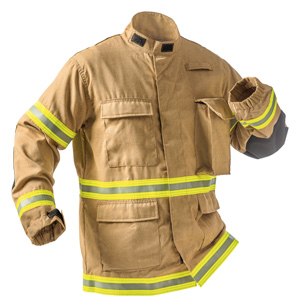 Most situations that a firefighter faces don't require traditional, heavy duty gear that doesn't breathe very well.
This can cause issues with heat stress. Turnout gear is designed to withstand the worst conditions a firefighter will face and give them precious moments to escape a flashover or other intense situation.
"When you design something for the worst-case scenario, a lot of overkill is intentionally built in," said Todd Herring, national sales manager for the TECGEN PPE brand. "For a call that doesn't require that level of protection, it can be too much."
Using a proprietary high-density fiber blend, this line of TECGEN PPE offers gear for firefighters at a fraction of the weight and the price, while providing increased mobility, comfort and breathability.
Those benefits can go a long way to improve the endurance and effectiveness of firefighters in the field.
A versatile option for a demanding job
TECGEN PPE provides an effective alternative to full turnout gear for up to 80 percent of a firefighter's calls. TECGEN gear has dual-certification: surpassing the requirements laid out in the 2013 version of the NFPA 1951 (technical rescue) and the 2011 version of the NFPA 1977 (wildland fires). It is designed to be used in applications ranging from extrication, wildland fires, search and rescue, goodwill calls, trench rescue, motor vehicle accidents to most anything short of a structural fire.
It's also useful in structural fires for those who are not required to enter the building, such as command and support staff, providing the comfort and ease of the lighter fabric.   
The breathable and lightweight fabric helps improve endurance while reducing the risk of heat stroke and heart attack, which is the current leading cause of death among firefighters, according to the U.S. Fire Administration. With all of the dangers firefighters face while doing their jobs, any hazard that can be avoided should be. 
A high-tech fabric
TECGEN PPE is based on a patented, flame-resistant fabric made by combining their own high-density fiber with a para-aramid fiber, and other materials in a precise ratio in order to achieve a combination of strength, protection from heat and breathability.
In the past, departments had to choose between thermal protection and breathability. But the unique fiber blend used in TECGEN PPE is able to offer them both. It has a total heat loss (THL) rating of 779 w/m2, nearly twice the NFPA 1977 specifications and significantly higher than the 650 w/m2 required by NFPA 1951.
In addition, the thermal protective performance (TPP) of TECGEN PPE gear was rated at 15.9, well above the NFPA requirement of 10, thus allowing TECGEN PPE gear to be suitable for most anything but a structural fire. The Radiant Protective Performance of TECGEN PPE gear, which NFPA 1977 requires to be 7 or greater on a scale of 15 was rated 15+, is above the test's ability to measure it. 
Finally, the fiber has a high-density carbon shell combined with a visco-elastic core. This provides crucial durability, as firefighters are often in situations that put physical stress on their gear. TECGEN PPE fabric has a tear resistance of 32 lbs., many times higher than traditional gear, in addition to providing high levels of total heat loss and thermal protective performance.
A cost-effective option
TECGEN PPE is also an extremely economical option. At one third the cost of traditional gear, it immediately saves departments money. But, because it can be used for most calls, it also extends the lifespan of bunker gear, which is more expensive to repair and replace than TECGEN gear.
By using the lightweight option, departments can limit the bunker gear's exposure to rips tears, UV light degradation and contamination. In essence, departments can save money on both ends while wearing breathable gear which allows body heat to escape.
Moreover, TECGEN PPE is made in the USA. The brand produces their own fiber and garments, maintaining a high level of quality throughout the production process.  
From TECGEN PPE gear's adaptability, to a variety of situations faced by firefighters, to its effectiveness in the field and affordability, TECGEN PPE presents a compelling alternative to traditional turnout gear for most calls.
*TECGEN is a registered trademark of INVISTA and used with permission. The views and opinions expressed in this article are those of the publisher and/or the editor of this publication and do not necessarily reflect the views and opinions of INVISTA or the TECGEN brand.