HexArmor rescue glove debuted
Gloves are rated to ISEA level 5; company working toward getting NFPA certified
---
HexArmor, which makes protective gloves for heavy industry, jumped into the rescue glove market at this year's FDIC. The gloves were selling like crazy, said Patrick Beadling, the company's marketing manager.
The gloves have 5,000 grams of cut resistance, which Beadling said is four to 10 times what competing gloves offer. This, he said, is due to a proprietary mineral resin that is screened onto fabric in a shape and pattern that keeps objects from cutting through the fabric.
The company also claims its gloves have more than double the impact resistance of competing gloves based on the results of an impact test performed using a hammering mechanism.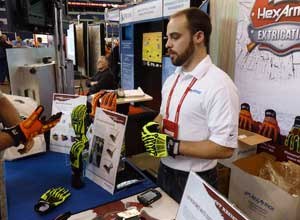 The gloves are rated to ISEA level 5 but are not NFPA certified. Beadling said there wasn't time to obtain NFPA compliance before going to market but the company is working toward that goal.
HexArmor was selling its gloves for $35 and $45.