PRESS RELEASE
Radiation Alarm For Emergency Vehicles Now Available
---
SOMERVILLE, MA - XRF Corporation recently introduced the EVA-1 Radiation Alarm for vehicles. The EVA-1 promptly alerts firefighters, police and emergency personnel of the presence of harmful radiation when responding to hazardous situations. Such critical information heightens situational awareness, facilitates response protocol and minimizes the risk of exposure.
The EVA-1 is the only radiation detector designed for permanent installation on emergency vehicles. The external radiation sensor detects radiation levels ten times above normal and triggers the internal alarm to alert responders both audibly and visually. The EVA-1 is powered by the vehicle battery and remains active while the engine is running. The sensor and alarm can be installed in any vehicle used to respond to emergencies.
Effective and timely information is one of the most powerful tools for any first responder. The EVA-1 Radiation Alarm for vehicles gives emergency professionals the critical knowledge needed to protect themselves and perform the business of saving lives.
XRF Corporation designs, manufactures, sells and supports complete systems for radiation detection and isotope identification. Specializing in hand-held radionuclide identifiers, XRF is a proud supplier of products and services for first responder, homeland security, nuclear power and medical applications.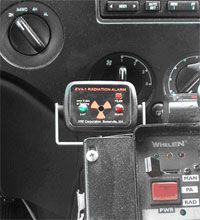 Internal Sensor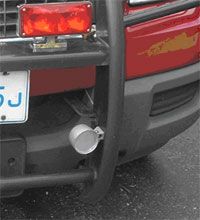 External Sensor






















For more information, visit the XRF Corporation's homepage or email XRF at info@xrfcorp.com.