Innovations in firefighter hoods improve function, comfort and cost
The 2018 revision of NFPA 1917 Standard focuses attention on the importance of firefighter hoods
---
By Rom Duckworth, LP
For firefighters to be effective, they must be properly equipped. More than ever before, firefighting hoods are being developed to be a key component of standard firefighting gear.
Everyone knows that good turnout gear improves firefighters' ability to do their jobs well, and protects them while they do it. The first firefighter hoods were thin, sock-like garments designed to help bridge the gap between the firefighter's helmet and coat.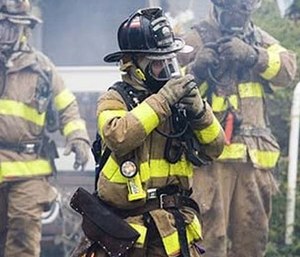 Early on, questions were raised about hoods possibly decreasing a firefighter's awareness of their surroundings. However, in a FDNY study, researchers found that hoods provided "dramatically improved (thermal) protection" and noted they "strongly recommend the use of modern thermal protective hoods."
Further research sponsored by the International Association of Fire Fighters collected and evaluated by the National Institute for Occupational Safety and Health found not only do hoods provide thermal protection on the particularly sensitive head, face and neck areas of a firefighter's body, but also that potentially carcinogen-carrying soot and other particles can collect in significant quantities in these areas.
Standards for protective barrier firefighter hoods
The 2018 revision of NFPA 1971: Standard on Protective Ensembles for Structural Fire Fighting and Proximity Fire Fighting now differentiates between simple protective hoods and optional particulate-blocking hoods. Protective barrier hoods include a layer or layers providing limited thermal, physical and particulate barrier protection to the interface of the turnout coat, SCBA and firefighting helmet. This is part of a larger change in NFPA 1971 that speaks to thermal and particulate contaminant protection as a part of firefighting personal protective equipment.
Beyond NFPA 1917, recommendations from many firefighting agencies and organizations now recognize the effectiveness of hoods in protecting a firefighter's head and neck as part of full structural firefighting gear.
Particulate and thermal protection
As firefighters demand better protection, manufacturers have worked to improve the design and materials for hoods, improving their effectiveness in particulate and thermal protection. Protective hoods are now available in a variety of styles – some with localized protective barriers, some with protective barriers throughout – all designed to balance upgraded protection with comfort, wearability, durability, washability and cost.
To improve this balance, North Carolina State University's Textile Protection and Comfort Center has received funding from the Assistance to Firefighter Grants program to improve our understanding of the effects of particulate-blocking materials on the other performance attributes of firefighter protective hoods. This research program (and others like it) seeks to further contribute to both the short-term effectiveness and long-term safety of firefighters in the evolution of protective barrier hoods and the rest of firefighters' turnout gear.
Firefighting protective hoods used to be an optional, inexpensive and nearly disposable product. New research, new standards and new designs point to hoods as a critical part of thermal and particulate protection for today's effective firefighter.
About the author
Rom Duckworth is a dedicated emergency responder and award-winning educator with more than twenty-five years of experience working in career and volunteer fire departments, hospital health care systems, and public and private emergency services. Currently a career fire captain and paramedic EMS coordinator, Rom is an emergency services advocate, and contributor to research, magazines and textbooks on topics of leadership, emergency operations, and educational methodology. Rom is a frequent speaker at conferences and symposia around the world and can be reached via RescueDigest.com.