PRESS RELEASE
DHS Systems Holds Capabilities Demonstration in Washington
---
This summer, DHS Systems displayed a variety of mobile soft-walled shelter solutions at the company's second annual capabilities demonstration. The event was held over the course of two days near DHS's regional support facility just outside of Fort Lewis in the State of Washington, and was attended by military officials and first responders from across the region.
Members of the DHS Business Development Team stationed at the regional support facility wanted to show stakeholders in the area how the company could help them design a mobile response system for various types of natural or manmade disasters that meets their needs. Hoping that the event would allow customers to interact with the company's expansive product line firsthand, representatives chose to include solutions from both its line of Deployable Rapid Assembly Shelter (DRASH) systems and Reeves EMS emergency medical supplies.
"For this year's capabilities demonstration, we focused on demonstrating how our shelter systems can be used to compliment a hospital system that cannot handle a large surge of patients due to a natural or manmade disaster," explains Ken Hall, AOR West Regional Support Manager for DHS who helped plan the demo. "This event gave emergency personnel and National Guardsmen an opportunity to see several of our products up close and learn about the numerous applications they can be used for."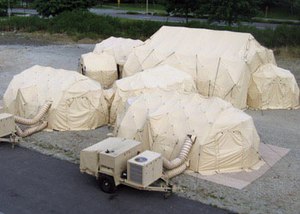 Among the products on display at the demonstration were the company's, TMSS Large and Medium Systems. As part of the Army's Standard Integrated Command Post System (SICPS) DHS Systems' Trailer Mounted Support System (TMSS) can be used as a standalone system or interconnected with other DRASH Shelters to form a larger footprint enabling the rapid deployment of a command and control center, a communications facility or medical aid station.
Several shelters were outfitted with Deployable Command and Control Equipment (DC2E) - a line of communications equipment that joins various feeds of information onto single or multiple screens, allowing users to view images from across the battlefield or incident scene. The newest product to join the DRASH line of Deployable Command and Control Equipment, the Intelligent Data Distribution Systems (IDDS™) offers users a durable, cost-effective method of distributing power and network connectivity throughout a temporary or fixed facility by connecting to any table measuring one to two inches in thickness.
The company also displayed a 3-Lane Reeves First Response Decontamination System and the Reeves Incident Command Post System (ICPS) – a unique trailer and shelter combination that has been used by both military and first response personnel to support operations across the country.
An opportunity to meet with both customers from the military and emergency response sectors, Hall says that RSF Lewis already plans to hold another capabilities demonstration next year. Many of the attendees came away impressed with what they saw and have taken an active interest in DRASH and Reeves Systems, particularly for dealing with surge capacity type-incidents and for the rapid decontamination of multiple patients. Hall encourages those interested in receiving an invitation to future demonstrations to send an email an to drash@drash.com.