New Approaches for Firefighter Protection – CBRN Protection Update
---
Several years ago, it became quite apparent that firefighters are the usual first responders to many major disasters. With the increased threat of terrorism, the types of hazards that firefighters may face have expanded dramatically. Firefighters like other first responders are reliant on their usual duty gear — in this case, their turnout clothing. However, turnout clothing cannot protect firefighters in an environment where there has been a release of chemical, biological, radiological or nuclear (CBRN) agents. In recognition of these needs, the federal government has supported protective ensemble developments that are aimed at firefighters being provided with protection during structural fire, but also permitting protection for the types of hazards that can occur during terrorism events.

In the latter part of 2004, a government organization known as the Technical Support Working Group (TSWG) sponsored research and development projects to develop protective ensembles that would afford firefighters the extra protection that was needed in the case of a terrorism event that involved CBRN agents. The idea was simple – create a regular structural firefighting protective ensemble (garments, helmet, hood, gloves, and footwear) that would function as ordinary turnout clothing but then design features and include materials that would establish higher levels of protection against highly hazardous vapors, liquids, aerosols and particulates that could be used in terrorism releases. The idea was that most firefighters would not necessary know as first responders when they encountered these threats.
Moreover, most departments would have difficulty in providing supplemental gear on all responses. Thus, the original scope was to create outfits that could meet structural firefighting protection requirements in NFPA 1971 and at the same time meet the criteria established in NFPA 1994 on protective ensembles for CBRN terrorism incidents. The challenge was to merge two types of protection technologies that had been historically difficult to combine. Firefighters who are familiar with totally encapsulating suits used in hazardous materials response and who contrast these products with turnout clothing, know just how different current protective approaches are.

Added protection
TSWG, with funding support from the Department of Homeland Security, awarded two separate contracts: one to North Carolina State University and one to the IAFF. North Carolina Status University partnered with Globe Manufacturing Company, LLC to develop an ensemble concept under the tradename CB Ready™. The NC State University team extensively pursued end user input. According to the feedback from firefighters, they didn't want to tradeoff the additional CBRN protection for ease of use in their everyday calls. As a result, the CB Ready design was based on allowing firefighters to deploy added protection without assistance when needed, but then have it disappear when they didn't. The CB.Ready™ design incorporates user-deployable closures at the waist of both the jacket and pants, cinches at the wrist and ankles, and a special hood built into the collar that can seal around the SCBA mask to protect the face, neck, and head. There are also ergonomically advanced features, such as how the suit moves with the wearer, including an entirely new sleeve, shoulder, and armhole design.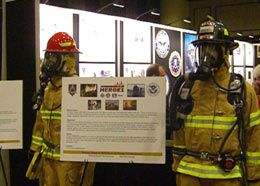 Photo Jamie Thompson
The Project HEROES system on display at the Critical Incident Preparedness Conference in San Francisco in November 2007.
The IAFF developed their approach under Project HEROES® (Homeland Emergency Response Operational and Equipment Systems). The IAFF project team included the IAFC, Total Fire Group, and International Personnel Protection, Inc. in their development of a new generation of structural firefighting personal protective equipment. As with the NC State-led effort, the IAFF Project Heroes Team focused their efforts on identifying and evaluating candidate materials, creating a design that addresses interfaces between ensemble elements, and pursuing standards that rigorously define needed levels of protection. This program has resulted in materials with demonstrated CBRN protection, which are integrated into the garments (coat and pants), hood, gloves, and footwear of a firefighter protective ensemble in a manner with no sacrifice of breathability or firefighting performance to the wearer. Each of the critical interface ensemble element interface areas (e.g., garment to hood, hood to SCBA) has been addressed by applying innovative designs that prevent inward leakage of CBRN agents. The new interfaces also increase the overall ensemble's protective performance in the primary mission of structural fire fighting.
Both teams conducted extensive evaluations at the materials, ensemble, and field test levels. Material testing has included evaluations to demonstrate resistance to permeation and penetration by CBRN agents after simulated use of the garment material to assure that the protection remains in place over the full service life of the ensemble. Overall integrity testing of the ensemble utilizes a Man-in-Simulant Test to evaluate the overall protection provided in a simulated chemical environment. This testing is intended to ensure that each ensemble can prevent the inward leakage of hazardous vapors. Each project group further evaluated prototype systems in several cities.
The importance of CBRN protection was recognized by the NFPA in its 2007 revision of NFPA 1971. As part of the standard for structural firefighting, optional CBRN protection requirements were added which provided rigorous criteria for the additional levels of protection. A unique aspect of these criteria was the requirement that only a full ensemble could be certified as a system, not the current element-by-element (e.g., garments, hoods, gloves, footwear) approach that is currently used. Moreover, the manufacturer of the ensemble has to specify a particular NFPA 1981 compliant SCBA for use with the ensemble.
Both development teams have completed their work after nearly four years of research, material development, design innovations, and changes in standards to properly define the needed protection. A key breakthrough was the offering of a new semipermeable CBRN barrier layer by W.L. Gore & Associates to replace the conventional moisture barrier in turnout clothing. The new material, known as ChemPak®, provides high levels of barrier performance against chemical warfare agents, biological agents, and industrial chemicals, but remains nearly as lightweight and breathable as regular moisture barrier materials. Both teams have further advanced design features for turnout gear that are likely to show up in standard firefighting coats and pants.
It is expected that the new systems will appear late in 2008 as certification processes to the optional CBRN requirements in NFPA 1971 are completed. One of the further considerations for the use of these ensembles is the general overall protection offered by ensembles to hazardous chemicals encountered at many fires. While the CBRN protective ensembles do not replace hazardous materials protective ensembles, by their design and materials, the system limit firefighter exposure to many vapors that are known to have both acute and chronic effects on firefighter health.

Request product info from top Personal Protective Equipment - PPE companies
Thank You!