Rescue strap tightens down to size of firefighter
10-foot-long nylon webbing has 4 preconfigured loops
---
Golfire introduced its Pest, a 10-foot-long nylon webbing with four preconfigured loops. The strap has a tensile strength of 4,000 pounds, said John Price, company owner and CEO.
"It is a piece of webbing that is pre-done so your speed in rescue is drastically reduced," Price said.
The company had carried a safety bailout webbing product, but it didn't tighten down to the size of the firefighter, Price said. With that, he spent about a year developing the Pest, which made its debut at FDIC.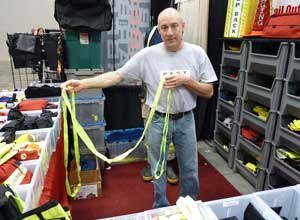 Some of its uses include as a rescue harness, a seated harness, a tool carrier, a foot strap for basement-fire rescues and a hose strap for a hydrant. The strap can be cleaned with mild detergent in a washing machine and air dried.
Price said he'd brought 100 to the show and was nearly sold out by Saturday morning, the last day. With carrying bag, the Pest sells for $30.