'I could have lost both my kids': Mom thanks chief after water rescue
Rensselaer (N.Y.) Fire Chief Dallas Denny will be recognized for his recent actions to save five kids stranded in a river
---
Ben Muir
Watertown Daily Times, N.Y.
RENSSELAER FALLS, N.Y. — Kim Foote said she could have lost her two children if not for a fire chief and state trooper who rescued them when they were recently stranded in the Oswegatchie River.
State trooper Zachary Benson and Rensselaer Fire Chief Dallas Denny are going to be recognized next month by the village Board of Trustees for their recent actions to save five kids stranded in the river.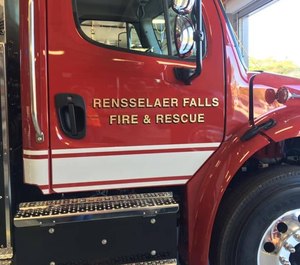 It was about 9 p.m. on Tuesday, July 20, when a call came into the fire department for a water rescue at the Oswegatchie River Falls.
It appears more than a half-dozen youngsters had been swimming at the dam all afternoon — until the water level began rising quickly. It went from about 500 cubic feet per second to more than 2,000.
"I've been in the fire department for 21 years, and I've never seen it rise that quickly," Chief Denny said. "Another 20 minutes and those kids would have been hurting."
Two of the kids were able to get out of the water and call for help, while the five others were stranded.
The fire chief arrived on scene and secured a line at each end of the river. Trooper Benson, meanwhile, was on a nearby bridge when the call came in and responded moments after the chief. They used the rope to move each child out of the water and safely to shore.
Mrs. Foote, who lives in Rensselaer Falls but is an auxiliary member with the Madrid Fire Department, received a call later that night saying her kids, Hunter and Abigail, were rescued.
"I was like, 'What?'" she said.
But now they're all OK and Mrs. Foote is just showing her appreciation.
"I'm so thankful for all the work they do," she said. "I know it's very hard work. It just really hit me hard when I found the kids had to be rescued. I could have lost both my kids. It was just so scary."
Rensselaer Falls Mayor Michael S. Hammond issued a resolution on the matter.
"The Village of Rensselaer Falls would like to recognize Officer Benson, Fire Chief Dallas Denny and all of the firemen and women who serve our front lines," the resolution reads. "Law Enforcement Officers and First Responders are a critical service provided to our communities and it is in situations like these that we understand the importance of their duties and responsibilities to our communities."
---

Read more
Water rescue: How to employ the tensioned diagonal system
The system is versatile, easy and fast to develop, and safe for swiftwater rescue of multiple victims
___
(c)2021 Watertown Daily Times (Watertown, N.Y.)
McClatchy-Tribune News Service