Fire grenades and aerosol mist: Launching new fire suppression tools
In confined spaces, these mini extinguishers can save lives and property
---
From the earliest days of "put the wet stuff on the red stuff," there's been the search for the next best thing in extinguishing agents. This has been especially true for the protection of high value fixed facilities once it became apparent that automatic fire sprinklers could exact more damage on the property (e.g., communications equipment and electronics) than the heat and smoke from a fire. And that quest created a domino effect of products, from Halon to "fire grenades" and condensed aerosol mist.
THE USE – AND BAN – OF HALON
In 1954, the U.S. Army and DuPont collaborated to develop Halon 1301 to provide fire suppression capabilities for high-value military assets (e.g., aircraft, mainframe computers and telecommunication switching centers) as total flooding systems. Halon (short for halogenated hydrocarbon) was a liquefied gas used to extinguish fires by chemically interrupting the combustion chain reaction – the fourth side of the fire tetrahedron.
Halon, in its various forms, was an extremely popular extinguishing agent because it was nonconducting and left no residue after being discharged. In fact, Halons were popularly described as a "clean" extinguishing agent.
Fixed fire suppression systems using Halon 1301 and its halogenated hydrocarbon "cousin," Halon 1211, made their first entries into non-military fire suppression applications in the 1960s, quickly gaining traction with facility managers charged with protecting high-value assets. And with many of those assets containing sensitive electronics and computer technologies, assets that would be damaged or destroyed by the activation of a traditional fire sprinkler system, Halons quickly became the "gold standard" for the protection of such facilities.
In 1987, representatives from around the world met and developed an international treaty, The Montreal Protocol on Substances that Deplete the Ozone Layer, which quickly became known as the Montreal Protocol. The goal of the treaty was to gradually eliminate the production and consumption of ozone-depleting substances to limit their damage to the earth's ozone layer.
The United States was among the 197 countries to sign the Montreal Protocol – the first treaty in the history of the United Nations to achieve universal ratification – and has been a leader in guiding the successes of the treaty. In 1994, the U.S. EPA banned the production and import of Halons 1211 and 1301 to comply with the Montreal Protocol, prompting chemists and fire protection engineer around the world to begin the search for a suitable replacement for Halon in fire suppression systems.
SPREAD THE WORD: CONDENSED AEROSOL MIST
One Halon alternative that is gaining in popularity are fire suppression systems that use condensed aerosol mist (CAM), defined by NFPA 2010: Standard for Fixed Aerosol Fire Suppression Systems (2020 Edition) as "an extinguishing medium consisting of finely divided solid particles, generally less than 10 microns in diameter, and gaseous matter, generated by a combustion process of a solid aerosol-forming compound."
Upon activation in fire suppression systems using CAM, an extinguishing aerosol mist is created by electric or thermal ignition of a specialized solid that produces micron-size dry chemical particulates and gases that mix to create a uniform aerosol.
There are myriad positives to the use of CAM for fire suppression in enclosed spaces:
Zero ozone depletion potential, meaning they don't contribute to global warming.
Included in the EPA Significant New Alternatives Policy program as acceptable substitutes for Halon 1301 as a total flooding agent.
Extinguishing capability three times that of Halon 1301.
No oxygen depletion: CAM suppresses fires at exceptionally low concentrations by interfering with the fire's free radicals, making the atmosphere safer for firefighters and any trapped occupants.
Reduces interior temperature in the space quickly, providing increased victim survivability and less heat stress for firefighters.
Most commonly, those condensed aerosol particulates consist of potassium carbonate (K2CO3) that result from the thermal decomposition of a solid aerosol-forming compound that includes potassium nitrate as an oxidizer. In addition to being effective, fire suppression systems using CAM are easier to install, maintain and operate in part because there are no pressurized cylinders or propellant gases required because the pyrogenic generation of CAM provides sufficient energy for a rapid discharge and efficient distribution.
CAM: HOW IT WORKS
The CAM is self-generated upon activation of the system. Manufacturers and installers for many fire suppression systems using CAM (e.g., Pyrogen, Ltd. and FirePro) create systems that consist of a series of canisters containing the solid aerosol-forming compound being strategically placed within the risk area and electrically connected to most types of manual or automatic fire control panels. When heat/flame detectors identify a credible fire threat, the system identifies those canisters that need activation and then sends an electrical current to the canister(s), which ignites the aerosol-forming compound.
CAM has proven to be effective in extinguishing fires, particularly those involving hydrocarbon-based materials, such as gasoline, diesel fuel, hydraulic liquid, lubricants, natural gas and wood. The micron-size aerosol particles exhibit gas like 3D qualities that allow the agent to rapidly distribute throughout an enclosure and reach into the most concealed and shielded locations.
NOT JUST FOR FIXED FACILITIES
Fire suppression systems using CAM are extremely scalable and cost-effective, making their installation possible for practically any civilian application, in many cases using a pre-packaged kit, that include, but are not limited to:
Marine applications protecting engine rooms, machinery spaces and cargo holds on commercial vessels, barges and tow boats, plus civilian watercraft (e.g., power boats, yachts, and sail boats).
Automotive applications protecting automobiles, trucks, trailers, RVs, and emergency vehicles (e.g., fire apparatus and ambulances), as well as commercial vehicles like motor coaches and buses and just about anything with four wheels!
Aviation applications for the protection of general aviation aircraft and helicopters as well as cargo bays, ground support equipment, and maintenance shops for commercial aviation.
LAUNCHING FIRE GRENADES INTO THE TOOLBOX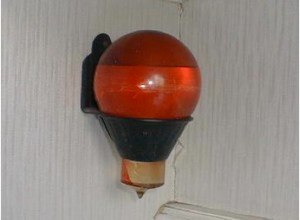 Manufactures such as Fireway, Inc. and AFG Flame Guard USA have taken CAM technology and put it into a portable unit for use by firefighters and other public safety personnel and civilians. While those manufacturers, and others, may refer to their products as a "fire suppression generator" or "CAM generator," I'm sure the term fire grenade is catchier with firefighters.
The Stat-X First Responder from Fireway is a compact, lightweight canister unit that's small enough that it can be carried on a person's belt (using a holster designed for that purpose). For instantaneous fire suppression, the user pulls the actuator and tosses it into an enclosed space where a fire's located (just like pulling the pin on a grenade and hurling it toward the enemy!). And it's small enough that it can be tossed up or down stairs, even through a second-floor window (depending on one's arm strength and aim!).
The X-Tinguish X-Treme from Flame Guard weighs in at 13 lbs., including the weight of the compound, but isn't much bigger than were some of the first handheld thermal imaging cameras. But its larger size gives it more fire suppression "punch," as it can effectively "mist" an enclosed area of roughly 5,300 cubic feet.
When used by first-arriving firefighters aboard fire apparatus, these devices can buy time for fire attack handline set-up, impede flashover and provide an emergency egress route for occupants seeking to exit the structure. This can provide a valuable fire suppression tool for under-staffed volunteer fire departments providing more time for enough firefighters to arrive to conduct safely conduct fire suppression operations.
USE BY OTHER PUBLIC SAFETY AGENCIES
In many communities, especially those relying on volunteer-staffed fire department for fire suppression, a law enforcement officer or EMT/paramedic may be the first person to arrive at a working structure fire. If that officer or EMS member has a portable CAM generator (fire grenade), they could use it to slow a fire long enough to enable occupants to get out and allow fire departments assets to arrive.
Consider this scenario. An ambulance (not staffed by firefighters) arrives at a vehicle fire resulting from an accident. There are occupants trapped in the burning vehicle and the fire department has not yet arrived. An EMT or paramedic could break a window, toss a CAM generator into the vehicle to knock down the fire and remove the occupants. Or this scenario: An ambulance arrives first at the scene and encounters an early-stage fire. After evacuating people, and before fire apparatus can arrive and set up for operations, one of the ambulance crew members pulls the actuator on a Stat-X First Responder, or activates a X-Tinguish X-Treme, and tosses it into the room where they see the fire.
AED for fire
Long ago we learned that fog pattern fire streams are more effective on a fire in an enclosed space, and that's the case with fire grenades as well. That's because the confinement keeps the aerosol mist from dissipating so that it can keep "mixing it up" with those free radicals.
With that caveat, I don't see any objective arguments for to not have these fire suppression units carried by public safety agencies. Think of them as the AED for a fire.
I foresee the fire grenade becoming a cost-effective alternative to fire extinguishers for a few reasons:
Reduced maintenance requirements (e.g., annual inspection like those for fire extinguishers);
Keeps distance between user and fire; and
Minimal user training required.
I'm all in for anything that helps firefighters do their jobs more safely, effectively and efficiently. Let's not forget Firefighter Life Safety Initiative 8: Utilize available technology wherever it can produce higher levels of health and safety. From my point of view, that means getting fire grenades into the hands of not just firefighters but all members of public safety agencies who could find themselves in the position of first-arriving first responder.