NIOSH: Insufficient warning to motorists in Pa. LODD
Volunteer Fire Police Captain Donald Mellott was hit by a vehicle while responding to a two-car crash last year
---
By Ken Robinson
FireRescue1 Associate Editor
CLINTON, Pa. — A lack of traffic warning devices contributed to the death of a firefighter who was struck by a vehicle while directing traffic at the scene of a crash.
Woolrich, Pa., Volunteer Fire Police Captain Donald Mellott died Feb. 12 last year after he was hit by a car while responding to a two-car crash.
Capt. Mellott had his back to oncoming traffic and was not wearing highly visible clothing or equipment, also contributing to his death, according to a NIOSH firefighter fatality report released Wednesday.
As a result of the fatality, investigators are urging fire departments to ensure personnel assigned to traffic control wear high visibility apparel and helmets.
"In Pennsylvania where this incident occurred, there is a requirement that 'All workers including flaggers shall wear a helmet and high visibility fluorescent orange or yellow-green apparel with retro-reflective material that meets ANSI 107-2004 Class 2 risk exposure anytime day or night,'" the report said.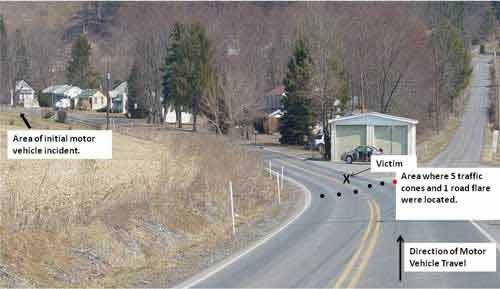 NIOSH photo
View of the intersection where victim was standing when struck by a motor vehicle travelling in the eastbound lane of the roadway.
At the time of the incident, Capt. Mellott was wearing his own personal clothing which had some areas of high visibility, but did not meet his department's SOGs or state requirements.
NIOSH also suggests that departments deploy warning devices like portable signs or traffic cones to inform drivers of conditions when approaching an incident scene.
While Capt. Mellott's personal vehicle was parked nearby with a red mini-light bar activated and he placed both a flare and five 18-inch lime green traffic cones across the roadway, the report suggests additional signs could have helped alert drivers.
In addition, investigators made the following recommendations for fire departments to minimize the risk of similar incidents:
Ensure that standard operating guidelines include guidance on identifying and maintaining a safe location while working in or near moving traffic
Ensure that a personnel accountability system is in place and adhered to during emergency operations
Utilize state and local departments of transportation for additional resources
Consider participating in the establishment of local traffic incident management committees.
NIOSH also urged fire service representatives participate in the development of new safety standards to reduce the risk to emergency personnel providing traffic control at emergency incidents.