Firefighters get electric vehicle response training at FRI
NFPA announces a joint effort with Chevrolet and OnStar at Fire-Rescue International in Chicago
---
By Jamie Thompson
FireRescue1 Senior Editor
Within the fire service, technology has brought about a range of benefits and changes in recent years that make the job safer.
But out in the wider world, new technology results in new challenges for firefighters that can often require a fresh approach to emergency operations.
At Fire-Rescue International in Chicago on Thursday, the NFPA announced a joint effort with Chevrolet and OnStar as to provide electric vehicle safety training for first responders to the scene of an accident.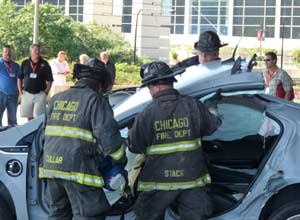 To mark the announcement, Chicago firefighters took part in a three-hour training session at the conference to highlight safety techniques on the all-new 2011 Chevrolet Volt — an electric vehicle with extended-range that will be on sale later this year.
Experts highlighted key points for responders, including locations of high-strength steel and cut points for extrication. The extrication demonstration was videotaped and will be later made available for reference on the NFPA Electric Vehicle Safety Training website.
The collaboration with Chevrolet and OnStar stems from an electric vehicle safety training initiative NFPA is developing to support the growing number of electric vehicles in the United States.
The initiative, funded by an American Recovery and Reinvestment Act grant from the U.S. Department of Energy, will include a series of electric vehicle emergency response safety programs available to first responders.
During a media presentation at FRI, Chevrolet Safety Director Gay Kent said the company was excited to be a part of the project.
"Our goal with this program gives us an opportunity to extend our electric vehicle training and education program, giving our nation's first responders and firefighters a platform to learn more about this new era of automotive transportation."
The goal of the program, according to Kent, is to help responders become as confident and comfortable working around electric vehicles as they are with conventional vehicles.
Tom Jeffers, OnStar's vice president of public policy, told the briefing that the organization, a leading provider of in-vehicle safety, security and communication services, had a long history of working with responders.
The partnership with the NFPA, he said, will help keep firefighters safer when rescuing people from vehicle crashes.
"Ultimately, every one of us driving across the nation's roadways will benefit from this project," he added. 
Andrew Klock, NFPA's senior project manager for the initiative, said, "With the Chevrolet Volt and other electric vehicles about to hit the streets, it is important to know that first responders are trained and ready to respond."
The NFPA is currently developing training materials and course curriculum for the full safety training program. Trainings will be available in the first quarter of 2011. For more information and resources about NFPA's Electric Vehicle Safety Training, visit www.evsafetytraining.org.

Request product info from top Fire Training Products companies
Thank You!