Simulation mishap injures instructor at National Fire Academy
Rapid nitrogen discharge from a water misting system simulation broke instructor's wrist
---
By Sasha Lekach
FireRescue1 Staff
EMMITSBURG, Md. — A National Fire Academy instructor was hospitalized Wednesday in a simulation mishap.
The instructor suffered a broken wrist and lacerations on his arm after nitrogen rapidly discharged from a nearby tank at NFA headquarters in Emmitsburg, Md.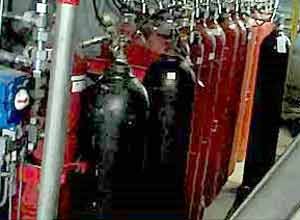 He remains hospitalized with non-life-threatening injuries, said Frederick County Chief Fire Marshal Marc E. McNeal.
The instructor was working on a simulation of a residential application of a water mist sprinkler system when the accident happened.
McNeal said initial media reports that said there was a nitrogen explosion at the facility were incorrect.
"There wasn't an explosion or a fire," McNeal said. "It really was just a rapid discharge."
The instructor was working alone in his lab which sustained some damage to its ceiling, according to The Frederick Post.
"This type of system is common — it is not a new system," McNeal said of the water mist simulation.
Frederick County Fire Marshal's office is investigating the incident, but based on the reliability and efficiency of the water mist system, McNeal believes the accident occurred while the tanks were being changed and moved.