10 things to look for in a fire helmet camera
Criteria to help you select the right camera for your helmet
---
Helmet-mounted video cameras are all the rage these days, from snowboarders zooming down the slopes to firefighters disembarking their apparatus to make fire attack on a structure fire. The manufacturers of these mighty tech tools continue to make their products smaller and lighter and packed with operating features.
Our discussion today focuses on the hardware — the video camera. The larger discussion, when and how video cameras can and should be used during emergency operations, is one that should take place within individual departments.
While there are many positive aspects of capturing real-time video during emergency operations — legal documentation of actions taken or footage for future training sessions are two that immediately come to mind — there are many potentially negative outcomes.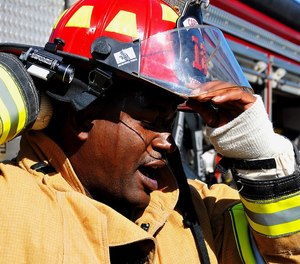 Consult your department's leadership before you arbitrarily decide to use a helmet-mounted video camera while operating on the company dime. That applies to volunteer as well as career firefighters.
When looking for the best buy for your video-camera dollar, here are 10 decision-making criteria that you might find useful.
Intended use. Look for models that are designed for rugged activity, that is, those targeted for sporting enthusiasts like skiers, snowboarders, rock climbers or off-road cyclists.
Megapixels. Simply put, a megapixel is equal to 1 million pixels. Digital images are made up of thousands of these tiny, tile-like picture elements. Resolution relates primarily to print size and the amount of detail an image has when viewed on a computer monitor at 100%. The more pixels, the higher the image resolution; this is particularly important when working in low-light situations.
Waterproof. That's kind of obvious, right? Given the nature of the job, your video camera should expect to get wet. Make sure the model you purchase "understands" this part of the agreement.
High definition. When choosing a high-definition video (HDV) camera, you'll notice the HDV format comes in a variety of resolutions, scan modes and frame rates. Understanding what these designations mean, however, can be very confusing. For instance, the Sony FX1 shoots in 1080i or 1920x1080 60i, where the JVC GR1 shoots in 720p or 1280x720 24p. Both are considered HDV, but how are they different? What is 720p? What is 60i? To be considered HD, video must follow certain criteria. It must have a 16:9 aspect ratio, varying frame rates, and resolutions of 1080 or 720 horizontal lines.
Image stabilization. VR image stabilization technology detects vertical and horizontal movement and offsets it by initiating compensating motion.
Interface. How will you manage your recordings, download to another device or share on social media? Find a camera that shares the way you want it to.
OS compatibility. What operating system does your other devices such as computers or tablets use? Be sure the video camera will be compatible with your device's system.
Power source. Know the expected battery life of the device that you're considering for purchase.
Memory storage type. The more memory the unit has, the more video it can hold. Learn how much internal storage capability the device has and what external memory storage is available, such as SD or SDHC card.
Dimensions and weight. Size does matter, especially when it is strapped to your head.
Now that you're armed with this knowledge, do some research to determine the right helmet cam for you – and hit record!
Here's an example of the type of footage captured by these mighty tech tools:
This article, originally published in 2014, has been updated.