9 Houston firefighters, 2 others injured in wreck
---
The Associated Press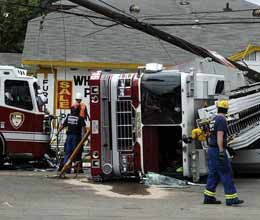 AP Photo/Pat Sullivan
Officials work around the two fire trucks that collided in Houston, Monday.
HOUSTON — Officials say nine firefighters and two other people have been taken to hospitals after two fire trucks collided while going through a Houston intersection.
The trucks had been responding to an emergency call when they collided Monday. The force of the crash flipped one of the trucks onto a vehicle at the intersection.
Houston District Fire Chief Tommy Dowdy two of the firefighters were severely injured and remain hospitalized. The other seven firefighters were treated at hospitals and released.
Dowdy says a woman on a bicycle who was hit by one of the trucks is hospitalized in critical condition. The driver of the vehicle also was injured.
Fire department officials later determined the reported apartment fire was a false alarm.