Lessons Learned during Kentucky ATV Safety and Rescue R&D Weekend
---
Knott County, Kentucky
October 12, 2009
By: Mike Brady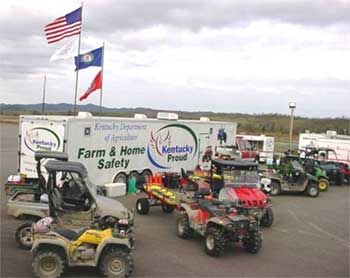 The second annual "Kentucky ATV Safety and Rescue R&D Weekend" was held on October 10 - 11, 2009, in Knott County, Ky. Also, while we can't be certain of a direct correlation between events, for a second consecutive year the Consumer Products Safety Commission's (CPSC) annual ATV report indicates: Kentucky no longer leads the nation in all terrain vehicle (ATV) fatalities. ATV related deaths for the period of 2005 through 2007 (the last full year on record) list the five states with the highest number of reported ATV deaths as: West Virginia *143, Florida *123, Kentucky *114, Pennsylvania (*87) and North Carolina (*83). While an improvement, these numbers remain far to high and more needs be done to continue this downward trend.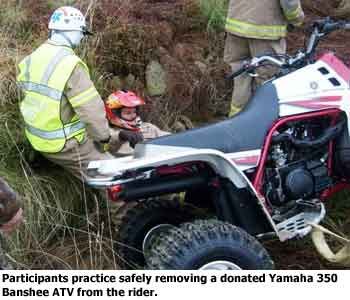 While remaining humble, a group of dedicated emergency service professionals in Kentucky have been working for almost five years to realize this trend. Without a formal membership, or a structured hierarchy, this group of individuals periodically assembles with the goal of learning how to reduce the number of ATV accidents, while at the same time improving the effectiveness of rescuers who respond to the accidents. Lessons learned during the two-day event will be incorporated into the Kentucky Department of Agriculture's 'Farm and Home Safety Training Program' as well as into the 'ATV Safety and Rescue' classes taught to responders statewide.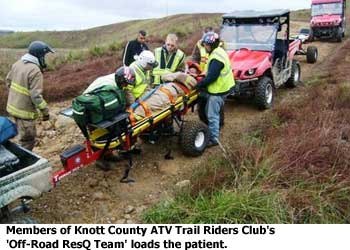 As with the first R&D weekend, the venue for this year's event was the Knott County ATV & Motorcycle Rider Training Center; www.kcrtc.com/index.php/about-us . This year's itinerary included rescue scenarios drawn from actual off-road accident reports and other topics identified by the participants as vital to improving response and evacuation times. One key issue was a coordinated use of medical helicopters to assist ground teams in locating the scene. While several states maintain a fleet of aircraft for search and rescue missions, Kentucky's medical helicopters are primarily used for medical evacuation from a landing zone, after the patient has been located. As shown in the image below, search areas routinely cover thousands of acres across varying terrain. Ground SAR teams on ATVs or UTVs could take an hour just to reach the ridge in the background; a distance of only three quarters of a mile by air. As the trails connecting the ridges drop over 400 feet into a drainage and run through an area known as "Quicksand Creek" by locals, ground searches could take hours, if not days.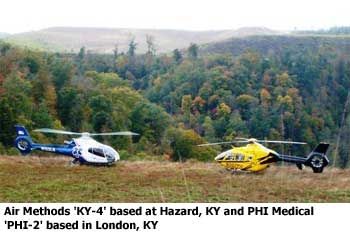 With the airborne assistance of both PHI Medical and Air Methods medical helicopter crews, rescuers were guided to simulated ATV accident scenes in minutes, not hours.
Participating in this year's 'Kentucky ATV Safety and Rescue R&D Weekend' were the management and staff of the Knott County ATV and Motorcycle Rider Training Center, instructors from Kentucky Department of Agriculture's Farm & Home Safety Training Program, personnel from ///EMERGENCY EQUIPMENT, air crews from PHI Medical and Air Methods, personnel from Elizabethtown Fire / Rescue, LaRue County Fire / Rescue, Lexington Fire & EMS, Hazard Fire / Rescue, Salyersville Fire / Rescue, the Grapevine- Chavies 'Rhino ResQ Team' and the newly formed Knott County ATV Trail Riders ResQ Team. Including air crews, twenty-four emergency responders participated during this two day learning experience.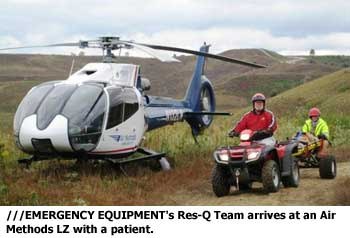 *NOTE: Exact annual numbers of ATV related deaths are difficult to determine as reporting periods and criteria for reporting an ATV accident changes from state to state. For example: The CPSC does not consider UTVs (side-by-sides) to be ATVs for the purpose of this report. However, when the victim arrives at an emergency room the medical report simply reads "ATV accident" without regard to type. Also, reports of ATV related deaths in areas where accident victims are evacuated by air to Trauma Centers in an adjoining state will not be included in figures for the state where the accident actually occurred. (Source: http://www.cpsc.gov/library/atv2007.pdf )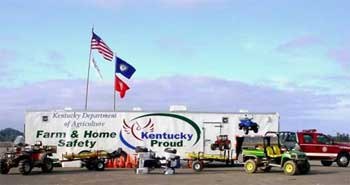 For more information visit: www.OffRoadRescue.com.