High hopes for Elkhart's HERO Pipe
This product for use at high-rise responses is a lightweight water delivery system
---
Elkhart Brass has been providing new products to the fire service for the past 110 years. Developed by a lieutenant from the Chicago Fire Department, one of its most recent launches is the HERO (Highrise Emergency Response Offensive) Pipe for high-rise fire operations.
The high-rise master stream device was designed to battle a high-rise fire from the floor below if the area in question cannot be reached by ladder companies on the scene.
This product is a lightweight water delivery system that allows firefighters to deliver a master stream to any floor of a high-rise building working the floor below.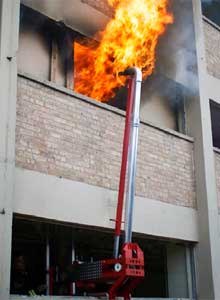 The unit is comprised of the base unit, which is an aluminum waterway that telescopes from 7.9-15 feet with a remote controlled articulating nozzle.
It also includes hydraulic stabilizer bars that keep the unit in place with ratchet locking sill clamps. The whole package is easily carried to the set-up point and can be in place by three firefighters in roughly 3-5 minutes.
The flow rate at the nozzle is 750gpm, and has a built-in pressure gauge and valve to control pressure. The unit can also be outfitted with a monitor mountable accessory rail for lights, and a thermal imaging camera.
The FDNY has been testing the unit for several months and has placed an order to Elkhart for the HERO Pipe. The department is known for a tremendous amount of testing and research before they put a new product to work for their firefighters, and this product was put through its paces on numerous occasions.
Not only can this product deliver water but it could also be used to introduce foam, chemical and biological agents from below, protecting firefighters.
As with all other Elkhart Brass products, it's very well made. But the most appealing aspect of the new product is that it requires no tools and is self-contained.
It was designed to be small enough to be transported in an elevator to the floor below the fire. Training is minimal and can be set in a very short period of time with a minimal amount of manpower.
Marketing the HERO Pipe to large and small city fire departments that have multiple story buildings in their immediate areas, it seems like Elkhart has a hit on their hands.
Elkhart Brass is one of the industry's most experienced manufacturer of innovative firefighting and fire protection equipment. For more details on the HERO, visit their website.

Request product info from top Fire Water Supply companies
Thank You!