Task Force Tips unveils 2 new Master Stream nozzles at FDIC
The two new nozzles added to the Task Force Tips line offer users a variety of strength and flow options
---
By FireRescue1 Staff
VALPARAISO, Ind. — Task Force Tips unveiled two new Master Stream nozzles at FDIC 2019.
The first new nozzle comes in two variations: VORTEX 2 and 2 ER (electric remote). Both are designed for flows of up to 1,250 gpm for both water and firefighting foam. The Task Force Tips VORTEX can be installed behind stacked tip or smooth bore nozzles and can provide both a straight stream or a dispersed pattern.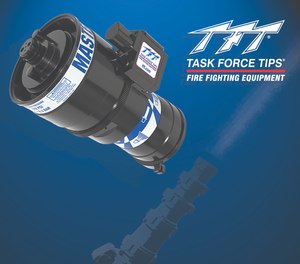 The Master Stream 4000 ER is Task Force Tips second new nozzle and is one of the company's three big water nozzle options. The Master Stream offers users a straight stream and fog pattern capability. It comes in an automatic version at 600 to 4,000 gpm, or a selectable version at 2,000 to 4,000 gpm, at 100 psi.
To learn more, visit Task Force Tips at booths 3511 and 3601 at FDIC.

Request product info from top Fire Nozzles companies
Thank You!