Safety agency reviewing Pullman Fire Department
The Washington Department of Labor and Industries launched the investigation in May, after receiving an anonymous complaint
---
William L. Spence
Lewiston Tribune, Idaho
PULLMAN, Wash.— Pullman Fire Chief Mike Heston says a state safety investigation regarding actions his department took during an April 9 flood could be completed within the next 30 days.
The Washington Department of Labor and Industries launched the investigation in May, after receiving an anonymous complaint.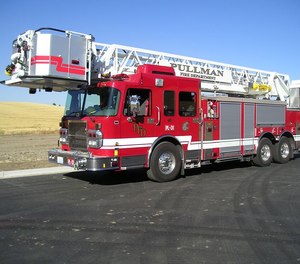 "Someone must have spotted what they thought was an unsafe practice, so we went out and confirmed that there were some things worthy of inspection," said Frank Ameduri, a communications consultant for the state agency.
The flood occurred after heavy rains caused Mission Flats Creek to over-top its banks, sending water racing down Grand Avenue. News reports at the time indicated the Pullman Fire Department helped rescue about 20 people. That includes at least one individual who was taken to dry land in a front-end loader; he and a Pullman firefighter stood in the front bucket as it drove through water that was about 3 feet deep.
Heston, who was out of town at a wildland fire conference during the April 9 flood, said his department initially helped with road closures, to keep people from entering the flood zone.
"Then we started getting calls from people who needed to be rescued, because water was entering several buildings," he said. "We ended up using a front-end loader we got from the Public Works Department."
It isn't clear if that's what prompted the anonymous complaint. Heston said the Department of Labor and Industries inspectors didn't provided specifics.
"It's been very general," he said. "They interviewed a few people and took a look at our policies and training procedures and other operational things. They met last week and are compiling the report, and should meet with us within 30 days."
Ameduri said once a complaint is received, it typically frees the state to investigate a whole range of safety issues.
"Once an inspection is opened, we're allowed to look at everything," he said. "We'll look at almost all aspects of the operation and make sure the department is following safety rules. We respond to the specific complaint, but we'll look at other applicable rules."
The fact that no one was injured during the April 9 rescue isn't really a consideration.
"We don't inspect outcomes," Ameduri said. "Any violation is based on the rules. There are certain things you have to do to have a safe work place."
For example, he noted a case last year where the city of Camas was fined $4,800 after two firefighters successfully rescued a man and two dogs from a burning house.
The city had a policy of sending two people out on fire calls, he said. However, state rules require three people to be present before anyone enters a burning building.
The two Camas firefighters "saved the person and his dogs, and that's great, but they put themselves at risk," Ameduri said. "The ends don't justify the means."
Heston noted that Pullman had never experienced a flood quite like the April 9 event. He believes there was the potential for bodily injuries had firefighters not rescued the stranded people.
"We didn't know how much higher the water would get," he said. "And it was moving fast enough to move cars."
While it's impossible to write policies to address every potential situation, he said there are always things the department could do better.
"You try to do the right thing with the information you have," Heston said. His department and the state "both have the same goal in mind: keeping employees as safe as we can."
Spence may be contacted at bspence@lmtribune.com or (208) 791-9168.
———
©2019 the Lewiston Tribune (Lewiston, Idaho)
McClatchy-Tribune News Service