University of Conn. students start apartment fire trying to burn out bees
Eight residents were displaced after the wood frame behind the brick caught fire
---
By Corey Sipe
The Chronicle
STORRS, Conn. — An accidental fire at Carriage House Apartments Tuesday afternoon caused by an attempt to burn out a bees nest temporarily displaced eight University of Connecticut students.
The fire occurred at 7 Carriage House Drive.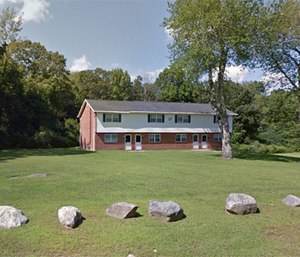 Mansfield Fire Marshal Francis Raiola, who also serves as deputy chief of the Mansfield Fire Department, said one of the residents called 911 at 6:41 p.m.
He said responding fire departments included Mansfield, UConn, Willimantic, Willington, Willington Hill, Tolland and South Coventry.
Windham Community Memorial Hospital also responded with paramedics.
He said this is the normal response for any report for a structure fire.
Fortunately, he said, there were no injuries of students or personnel responding to the fire.
"Fire crews discovered the fire in an exterior wall between two units — unit C and D — which was quickly extinguished," Raiola said. "There were no injuries to anyone."
When crews responded, the units were already starting to fill with smoke.
It was determined, he said, the fire was accidental and started when students, who were cooking on a charcoal grill outside, saw bees come out of a nest behind an exterior brick face.
The students tried to eradicate the bees with lighter fluid to burn them out, according to Raiola, but said they thought the entire structure was made of brick.
However, he said, there was a wood frame behind the brick wall that caught on fire.
"When the residents involved saw the smoke, they got a fire extinguisher and tried to extinguish it but they couldn't get at it since it was inside the wall," Raiola said, adding one resident called 911 while the others tried to fight the fire.
When crews arrived, he said firefighters had the fire under control within a half hour.
"A minimum amount of water was used, less than 10 gallons," Raiola said.
He said students living in units C and D have been displaced "due to lack of power and damage to kitchen areas with fairly minor damage."
Power was shut off to the units as a precaution and cabinets were damaged.
He said the Lutz Group, which is the property management group for Carriage House Apartments, are working with UConn officials to ensure the students received temporary housing and support services.
A woman answering the phone at Lutz Group said she was unable to speak about the fire and a message left was not immediately returned.
The names of the students were not immediately available at press time.
The Carriage House Apartments previously had the reputation of being a popular place for rowdy off-campus parties during Spring Weekend, but they have subsided in recent years.
Raiola said he believes the students should be able to move back into their apartments within a week.
Even though this fire was not directly caused by it, he is advising those who have charcoal outdoor grills to keep them at least 10 feet away from buildings when they are in use.
Copyright 2016 The Chronicle