3 NJ FFs injured in apparatus crash
Officials say the Passaic apparatus was en route to a call when it collided with a minivan
---
By Laura French
PASSAIC, N.J. — Three New Jersey firefighters were injured when their apparatus T-boned a minivan on Sunday. 
The Passaic firefighters were en route to a call with the apparatus' lights and sirens activated when it collided with the minivan at an intersection, according to the Rutherford Daily Voice.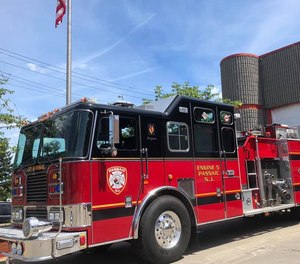 The firefighter who was driving the apparatus said he had slowed down at a traffic signal and continued through the intersection when motorists on either side stopped to let them through. The firefighter said the minivan then passed another vehicle to the apparatus' right and was T-boned in the middle of the intersection. 
The three firefighters inside the apparatus were treated for injuries that were not life-threatening, officials said. The driver of the minivan was not seriously injured and was cited for failing to yield to an emergency vehicle and improper passing.