ND firefighter injured in rollover crash battling grass fire
The grass fire burned about 880 acres and led to near-zero visibility
---
By Laura French
RICHARDTON, N.D. — A North Dakota volunteer firefighter was injured in a crash battling an 880-acre grass fire on Monday. 
The Richardton firefighter was in a pickup truck with a pumping unit when the vehicle rolled off the road, according to The Bismarck Tribune. Richardton Fire Chief Jason Kostelecky said near-zero visibility in the area contributed to the crash.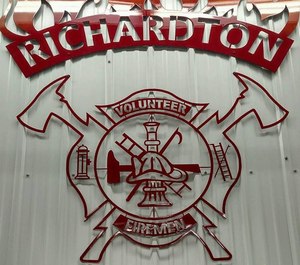 The firefighter sought medical treatment and underwent scans that determined his injuries were not serious, Kostelecky said. The truck was also damaged in the crash. 
Several agencies battled the grass fire, which was fueled by more than 50 mph winds throughout western North Dakota. The blaze damaged some fences, utility poles, power lines and an abandoned building, as well as five Montana-Dakota Utilities structures, although company spokesman Mark Hanson said no power outages occurred as a result. Some calves on a ranch affected by the fire were also injured. 
The blaze was brought under control Monday night and firefighters continued to monitor for hotspots Tuesday.