Officials: Texas firefighter fainted before rollover crash
Lake Travis Fire Rescue engineer William Tatsch is back home after he blacked out while driving a fire truck and crashed, fire station officials said
---
By Katie Hall
Austin American-Statesman
AUSTIN, Texas — Lake Travis Fire Rescue engineer William Tatsch was back home Saturday after he blacked out on RM 620 while driving a fire truck and crashed, fire station officials said.
"All tests have come back clear, and doctors are telling us that this was an extremely rare case of a presumed vasovagal syncope which caused the incident," the department wrote in a tweet.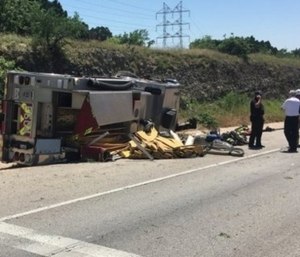 A vasovagal syncope is when a person faints because his body overreacts to certain triggers, such as the sight of blood or extreme emotional distress, according to MayoClinic.com. Vasovagal syncope is usually harmless and requires no treatment.
"Engineer Tatsch will continue to be off duty while he receives care for his concussion," the department wrote. "We wish him and all civilians a speedy recovery."
The 17-year veteran of the department had been heading south on RM 620 north of Comanche Trail when he lost consciousness, fire officials have said. The truck veered into the northbound lanes of traffic, striking five vehicles in a fiery crash that shut down the highway late into the evening. Ten people were injured in the collision, including Tatsch and three other Lake Travis firefighters.
In addition to the four firefighters, six people were taken to area hospitals, including one driver who was airlifted to Dell Seton Medical Center with serious injuries.
The three other firefighters who were injured were released from the hospital Wednesday night, fire officials said.