Firehouse No. 7: The firefighters who make and protect Jack Daniel's whiskey
The Jack Daniel's Distillery fire brigade was created after a blaze tore through the distillery in 1930
---
On Nov. 7, 1996, 90,000 barrels of whiskey caught fire at the Heaven Hill Distillery in Bardstown, Kentucky.
The fire, which was fueled by high winds, destroyed Heaven Hill's main distillery and six additional warehouses. And although several firefighters suffered smoke inhalation, there were no serious injuries reported.
The incident changed the way distillery companies produce and store spirits, spotlighting the need for on-site fire protection and sprinkler systems.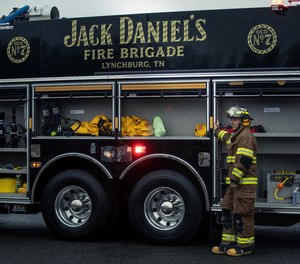 It's also why Jack Daniel's Fire Brigade protects every drop of Jack Daniel's charcoal-mellowed Tennessee whiskey.
History of the Jack Daniel's Fire Brigade
The Jack Daniel's Distillery was established in 1866 in Lynchburg, Tennessee.
The fire brigade was created after a blaze tore through the distillery in 1930. Seven years later, the distillery was rebuilt and resumed operations, complete with a fully functioning fire brigade.
Named after Jack Daniel's famous No. 7 brand, Firehouse No. 7 is staffed by 34 distillery workers who double as volunteer firefighters. Jack Daniel's Fire Brigade Chief Fred Elliott, who serves as a fire and security specialist at the distillery, said members work in various roles throughout the distillery, even down to the distillery's tour guide-turned-firefighter.
"We have members that work in the distillery itself, members that work in bottling and shipping, members that work in processing and receiving; we have them in every department and throughout the warehouses," said Elliot, who has served with the department for 14 years.
The department even has a waiting list for potential firefighters.
"It's an honor to be on the Jack Daniel's Fire Brigade," Elliot added.
Becoming a Jack Daniel's Fire Brigade firefighter
The department does not mandate that employees become members of the fire brigade. Instead, employees can choose to be a part of the fire brigade, protecting the people they work with and keeping the whiskey they make safe.
"They're volunteering their time and efforts," Elliott said.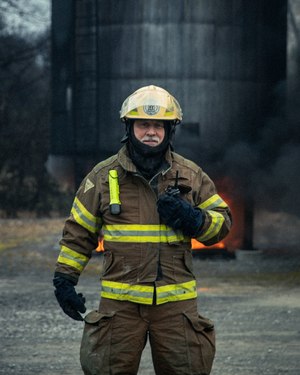 And, much like a traditional fire department, there's a process for Jack Daniel's employees when applying to become a member of the fire brigade.
Applicants must first fill out a four-page questionnaire. Then, the department's fire officers look over the packets and select applicants for the interview process.
"You get points for experience," Elliott explained. "Believe it or not, we share a number of members with our local fire department. That's a positive thing, because they get double-trained."
Once an employee is selected, they undergo rigorous and ongoing training. "We train weekly here, and we have our own training facility," Elliott said.
Distillery-specific training and equipment
The department trains the same way traditional departments do – with a twist.
The department participates in hazmat training and incident command training every year, along with CPR, first aid and AED training – all those things mandated for other departments. However, the department also focuses on distillery-specific hazards. "We emphasize things like fire department connection support, sprinkler support, foam operations, dry chemical operations and exposure protection," Elliot explained.
Their on-site training ground, complete with a burn tower and elevated tank, allows firefighters to train and prepare for any type of emergency at the distillery. "We also have different types of warehouse configurations and storage of barrels," Elliott noted.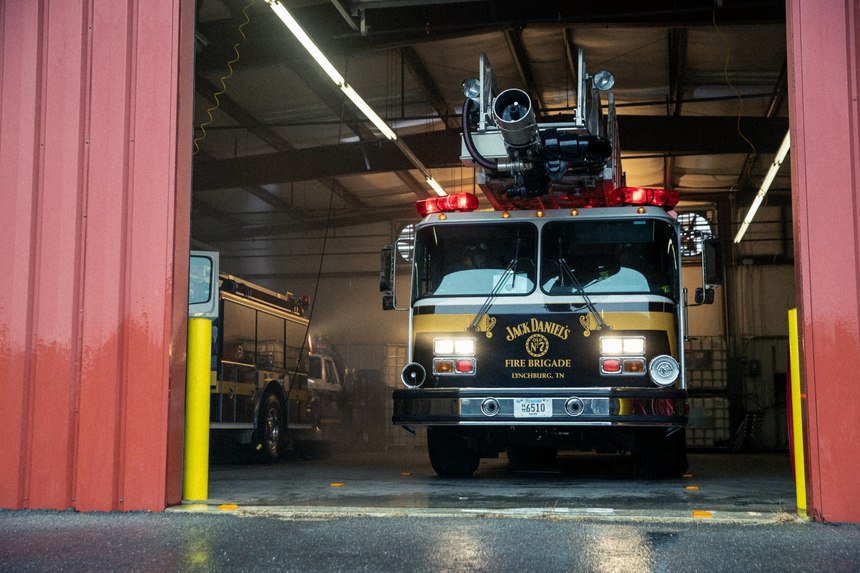 Members gather in their debriefing room to recap and discuss lessons learned after each training session. "We take fire protection extremely serious," Elliott said.
The department's fire and rescue equipment is also specifically designed and outfitted to handle distillery-related fires. For example, its newest custom-built pumper is equipped with a 6,000-gpm dual-agent nozzle, allowing quick dispersal of fire-suppressive foam.
"Some of our equipment is similar to a traditional fire department's, but every one of our major pieces of equipment are foam capable and include dry chemical systems on board," Elliott said. "They're primarily built and used for distillery facilities, such as a barrel warehouse. They're special and definitely a little different."
But, because the brigade operates within a distillery, its fire safety plans are unlike any other traditional fire department's plans.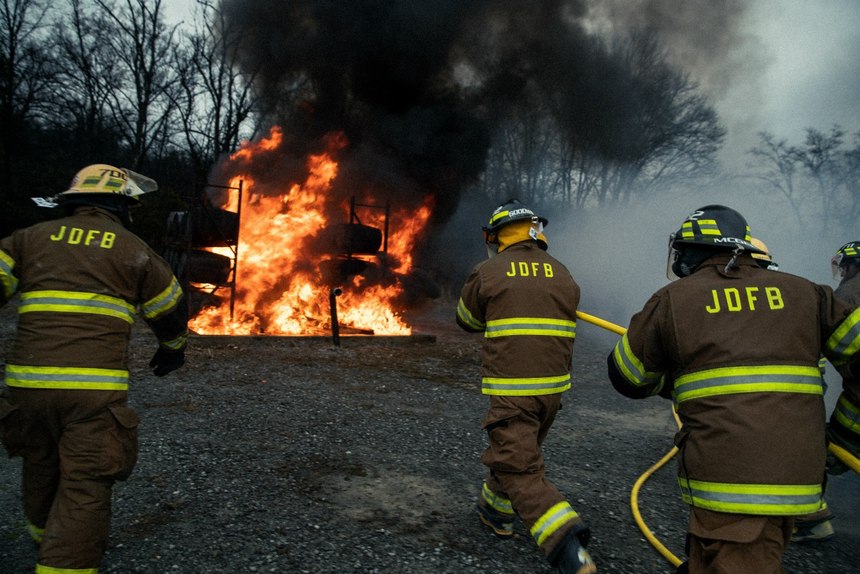 'We know where all our hazards are'
Every Jack Daniel's facility, Elliott said, has an emergency action plan. Pre-incidents plans are also carried on the brigade's fire apparatus.
"We know where every sprinkler support valve is, every zone in the building; we know where all our hazards are; we know what the walls are made out of in each area; we are very particular and try to be as specific as possible," Elliott said.
Last year, the department ran fewer than 70 calls. "We have sprinkler system support and special smoke detection," he said. "So when we get a dusty, windy or warm day, a majority of our calls are false alarms and activated sprinkler systems."
The brigade also has a mutual-aid agreement with its local fire department and automatic aid with nursing homes in the area. "All they have to do is call and we will support them," Elliott said.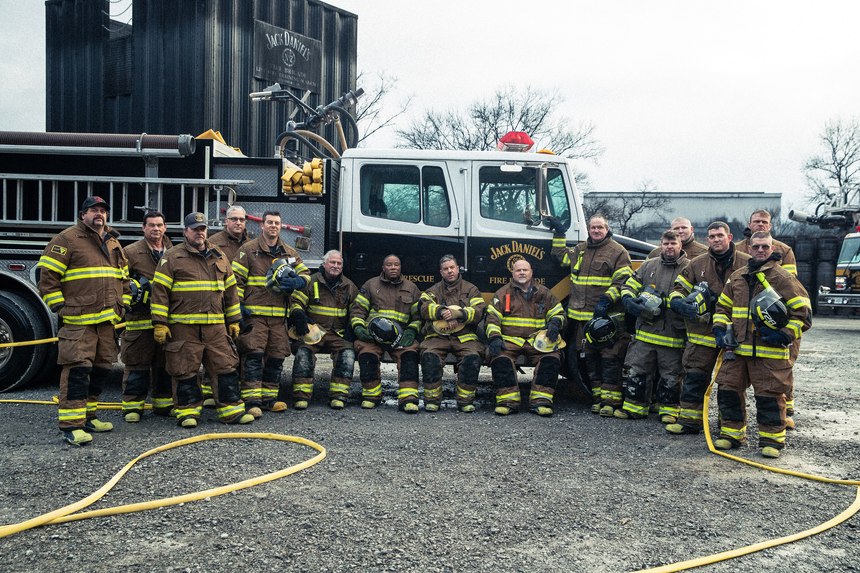 A successful approach
Elliot underscored the diligence required to protect the distillery, noting that all employees undergo hazard recognition training. "They are our eyes and ears in the field," Elliott said. "If they see something that's wrong, they call us."
Thanks to the unique fire brigade's formation and the distillery's alert employees, the Jack Daniel's Distillery hasn't experienced a fire while in operation for over 80 years.
"This is the best game around, and we all have an invested interest to make sure we're making it the safest place to work," Elliott said.
More Unique fire departments