Mass. firefighter, 34, dies suddenly
A U.S. Marine Corps veteran, Jonathan O'Driscoll served as a Quincy firefighter for six years
---
By Joe DiFazio
The Patriot Ledger
QUINCY, Mass. — The city's fire department is in mourning after the death of 34-year-old firefighter Jonathan W. O'Driscoll.
O'Driscoll, a native Cork City, Ireland, and a 2004 graduate of North Quincy High School, had been assigned to Ladder Company 2 in Wollaston.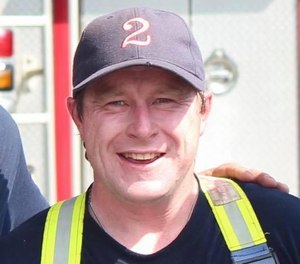 "It's a tough week," said Tom Bowes, president of the city's firefighters union, IAFF Local 792. "It's going to leave a huge hole in the department."
Bowes described O'Driscoll as a good person and hardworking family man.
O'Driscoll died suddenly on Wednesday, Oct. 9, according to his obituary written by Keohane Funeral Home, which is handling his funeral arrangements.
"Jonathan, a proud Marine, defined a Quincy Firefighter. He was a hard worker who worked 2 jobs to help support his family," said IAFF Local 792 in a Facebook post on Sunday. "He was a great "Jake", that loved fighting fires ... He also often volunteered any off time he had for different charitable events the Local was involved in throughout Quincy. Jonathan's loss is already felt deeply within the Department, as he was loved by all."
A U.S. Marine Corps veteran, O'Driscoll served as a Quincy firefighter for six years. He is survived by his wife Alyson O'Driscoll, and son Nolan O'Driscoll.
Visiting hours for Jonathan O'Driscoll will be on Wednesday 4 to 8 p.m. at the Keohane Funeral Home at 785 Hancock St. in Quincy. There will be a short celebration of life service at the funeral home on Thursday at 9:45 a.m. followed by a funeral mass at St. Ann Parish at 757 Hancock Street in Quincy. Jonathan O'Driscoll will be buried at Cedar Grove Cemetery in the Dorchester neighborhood of Boston.
The obituary said an educational fund for Nolan O'Driscoll has been set up in his father's honor at Colonial Federal Savings Bank at 15 Beach Street in Quincy.
———
©2019 The Patriot Ledger, Quincy, Mass.
McClatchy-Tribune News Service