Third firefighter killed responding to Carr fire
Andrew Brake, 40, was killed after falling asleep at the wheel on his way to the fire lines
---
By Michael Cabanatuan and Peter Fimrite
San Francisco Chronicle
REDDING, Calif. — The death toll in what was already the most lethal year for firefighters in California since 2008 increased to five Thursday, when a heavy equipment mechanic was killed after falling asleep at the wheel on his way to the fire lines near Redding, a family member told The Chronicle.
Andrew Brake, 40, of Chico died in a single-car crash on his way to work on the Carr Fire, which had already claimed the lives of two firefighters and five other people, including a woman and her two great-grandchildren, and a PG&E lineman, who died trying to restore power to the area.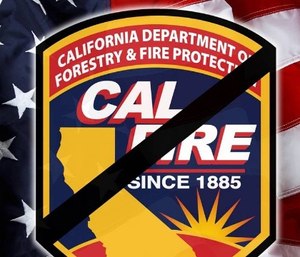 Brake was a six-year veteran of the California Department of Forestry and Fire Protection, or Cal Fire, working out of the Butte unit in Oroville. The crash occurred about 7:30 a.m. on Highway 99 south of Los Molinos in Tehama County, officials and relatives said.
His mother, Teresa Brake of Chico, said he had been working almost nonstop fighting fires since May and was obviously tired at the time of the accident.
"I've had nightmares about him having something like this happen," she said, adding that they barely had time to text one another after his exhausting days at work.
Cal Fire would not say how many hours Andrew Brake had been working in the days leading up to his death, but fire experts have expressed concern about worker fatigue as fires have relentlessly burned across the state this summer. California had 18 active conflagrations Thursday.
"I think those guys need to come home for a while," Teresa Brake said. "It's not the fire department's fault. He should have been in his hotel resting."
Andrew Brake grew up in Chico and is survived by his parents, Melvin and Teresa; sister Lyndsay Barrett; daughters Marissa, 20, and Miranda, 16; and their mother, Liberté.
Brake was the third firefighter killed in the battle to contain the Carr Fire, which has burned 178,752 acres in three weeks, ravaging the area around Redding and destroying 1,077 homes. It continues to scorch steep, dry uninhabited land and has no projected date for containment.
Two firefighters died in the early days of the fire as flames roared into Redding: Don Ray Smith, 81, a contract bulldozer operator from Pollock Pines (El Dorado County); and Jeremy Stoke, a fire inspector for the Redding Fire Department.
Stoke, whose memorial service was held Thursday, died while assisting with evacuations. Smith was overtaken by flames while clearing protective lines.
With the deaths of a Cal Fire bulldozer operator and a leader of a hotshot crew on the Ferguson Fire west of Yosemite National Park, five firefighters have died in California battling wildfires in 2018, more than any year since 2008.
According to figures released by Cal Fire, 22 fire service workers have died on duty since 2008, not including this year. Thirteen of those deaths came in 2008, including nine firefighters killed in a helicopter crash in Trinity County while fighting the Iron Complex Fire.
Since then, fire service deaths have been relatively few. Just one firefighter died in last year's devastating Wine Country fires. Three firefighters died in 2009 and 2016, and one firefighter died in each of the years 2014 and 2015.
It is with deep sadness that we announce the passing of Heavy Equipment Mechanic Andrew Jason Brake. HEM Brake died this...

Posted by CAL FIRE on Thursday, August 9, 2018
"What we're seeing are conditions that are off the charts as far as fire behavior," said Jonathan Cox, a Cal Fire battalion chief. "And unfortunately, the risks are also off the charts."
More than 4,700 firefighters from around the country have been sent to Shasta and Trinity counties to battle the Carr Fire.
Brake was described as a quiet, hard-working man who was very proud of his work at Cal Fire.
"Working for the fire department gave him a sense of pride," said his mother. "He just loved it with all the men and the comradery and the closeness. This was his way to shine."
A mechanic for 20 years, Brake studied fire science and became a seasonal firefighter at the age of 33, working for five years in Humboldt County before he took a job as the fire crew mechanic in Monterey, said his mother.
The divorced father of two transferred to Butte County in March to be closer to his daughters, with whom he loved to camp and dirt bike, and had been living at his parent's house trying to save enough money to buy a house. She said his beloved rat terrier, Mike, waits every day at the front door for him to return.
"He wanted to have a stable home where his daughters could come and they could all be together," Teresa Brake said. "It's really tough. My one granddaughter is only 16. There is a lot of stuff she's going to miss with him."
Northern California's three biggest wildfires are growing more slowly and mostly away from communities, but they continue to elude containment.
The Mendocino Complex, considered the largest wildfire in state history, grew by about 4,000 acres Wednesday to 305,152 acres total. Most of the growth was on the northern edge of the Ranch Fire, the larger of two fires that make up the complex. The Ranch Fire has consumed 256,232 acres and is 49 percent contained. The River Fire remained steady at 87 percent contained.
The moderate spread of the flames allowed fire crews to strengthen lines around the fire, and firefighters continued to patrol the southwest boundaries of the blaze and bolster fire lines on the north.
In and around Yosemite National Park, firefighters battling the Ferguson Fire took advantage of humid weather to increase containment of the 95,104-acre blaze to 80 percent as of Thursday evening. Crews are burning off fuel in some areas to prevent the fire from reaching further into the park.
While the park remains open, its most popular attractions -- Yosemite Valley, the Mariposa and Merced groves of giant sequoias -- remain closed, as does the entrance on Highway 140. Highway 41 is open only to residents of Yosemite West (Mariposa County), a residential community just outside the park boundaries.
___
(c)2018 the San Francisco Chronicle