Texas firefighters reunite with victim after life-saving actions
The firefighters deployed two tourniquets to stop the bleeding, while at the same time working to free the victim from his vehicle
---
Joseph Brown
The Huntsville Item, Texas
NEW WAVERLY, Texas — A quick response can generally be the difference between life or death.
Earlier this week, a victim that was saved by New Waverly firefighters was reunited with the heroes that quickly responded to his near-fatal car crash in February.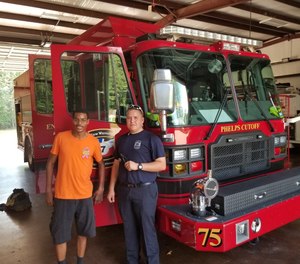 On Feb. 22, New Waverly firefighters, along with Walker County EMS crews, were dispatched to FM 2296 with reports of a major accident near the Phelps community. Upon arrival, first responders noted that two vehicles had collided, and one person was still trapped in his car.
The firefighters on duty — Jacob French, Shane Gehovak and John Waldo — were on scene in a matter of minutes and quickly determined that the trapped driver was rapidly losing blood due to a damaged artery. The firefighters deployed two tourniquets to stop the bleeding, while at the same time working to free the victim from his vehicle.
Crews were able to extricate the victim shortly after stabilizing him.
"The injured driver was transported with life-threatening injuries, but survived and returned to thank the New Waverly firefighters who saved his life," NWFD public information officer Jimmy Williams said. " Firefighters had been monitoring his recovery but were elated to see him alive and doing so well."
The New Waverly Fire Department staffs two stations around the clock with firefighters cross-trained as EMTs and paramedics.
"These FF/ EMTs and FF/ paramedics bring extensive training and years of experience to the citizens and those passing through Walker County Emergency Services District No. 2," Williams added. "They work hand in hand with the Walker County EMS crews stationed in New Waverly, and are the initial caregivers in many instances, particularly when the closest ambulance may be several miles away."
———
©2019 The Huntsville Item (Huntsville, Texas)
McClatchy-Tribune News Service