Video: President Biden awards Medals of Valor to 6 firefighters
"We can never fully thank you for your service or for your sacrifice, but today is an important day for the nation to give thanks for all that you do," he said
---
By Leila Merrill
WASHINGTON — President Joe Biden awarded the Medal of Valor to 15 public safety officers, including six firefighters and nine police officers, on Monday. Two of the honorees died in the line of duty.
At a ceremony held in the White House's East Room, the president recognized the first responders for their acts of bravery in the line of duty.  
"We can never fully thank you for your service or for your sacrifice, but today is an important day for the nation to give thanks for all that you do for everyone," Biden said before giving the highest award a president can bestow on a public safety officer. "I know you don't do this work for recognition, but you reflect the best part of who we are as Americans. These medals reflect the profound gratitude of our nation."  
The medal ceremony recognized bravery at incidents over the course of two awards cycles, and was the first such ceremony since before the pandemic. 
The 2020-2021 Firefighter Honorees
FDNY Firefighter Abraham Miller rappelled down the roof of a burning residential building to rescue a five-year-old girl being held out a window by her grandmother.
Today, FDNY Firefighter Abe Miller was awarded the Public Safety Officer Medal of Valor by President Biden. This medal is awarded to public safety personnel who demonstrate extraordinary valor above and beyond the call of duty. Read more: https://t.co/KBvxBmaYuz pic.twitter.com/lV3ql096d6

— FDNY (@FDNY) May 16, 2022
Firefighters John Colandro, Michael Rosero and Chad Titus of the Stamford (Connecticut) Fire Department dove into freezing water during a blizzard to rescue two people trapped in a sinking truck.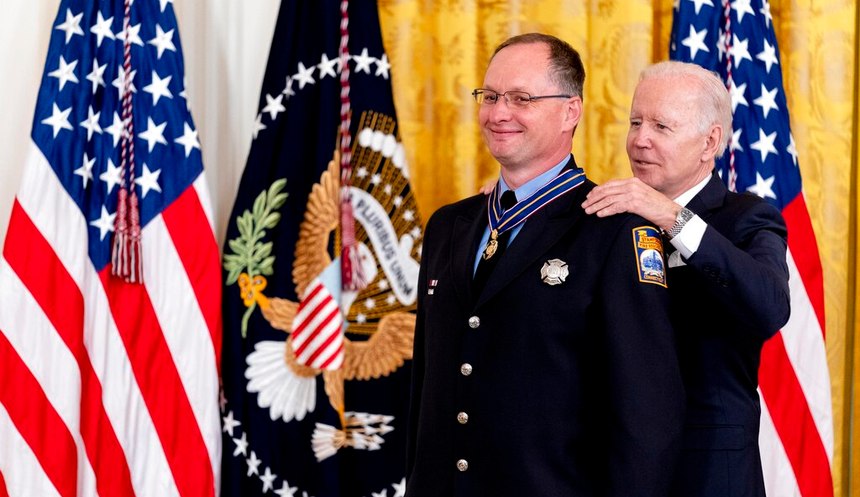 Fallen 2nd Lieutenant Jared Lloyd of the Spring Valley (New York) Fire Department rushed into a burning nursing home multiple times to carry out residents who couldn't escape in their wheelchairs and walkers. Lloyd and other firefighters rescued all 112 residents. He became trapped as the building collapsed. Lloyd's mother, Sabrail Davenport, accepted the medal on behalf of her late son.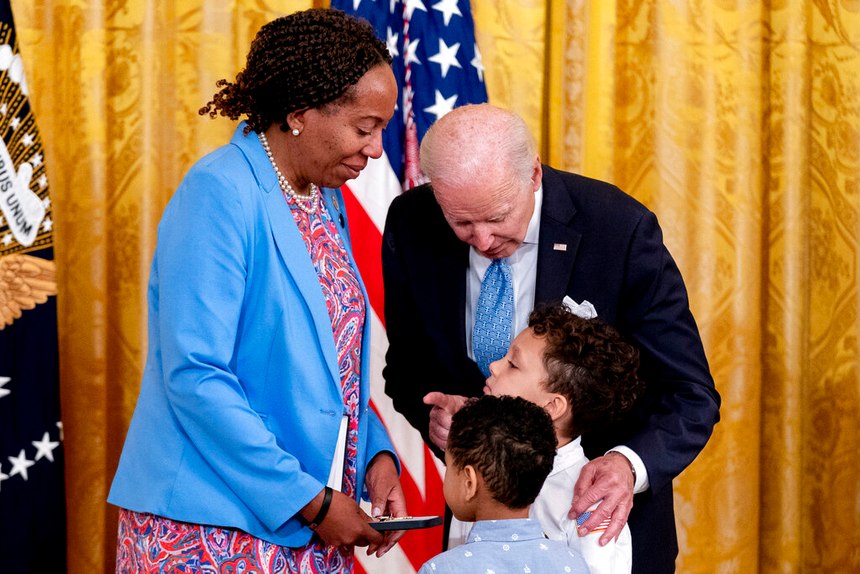 2019-2020 honoree
Assistant Chief Ryan Sprunger of the East Wayne (Ohio) Fire District was off duty when he responded to a call about people who fell into a frozen pond. With nothing but a throw rope, Sprunger jumped into the freezing water to rescue a grandfather and his two grandchildren.