5 firefighting T-shirts I won't wear
Here's a list of some of the dumbest things you'll see on a firefighting T-shirt ... just not on my back
---
The T-shirt has come a long way in the fire service. From humble beginnings of iron-on letters to the fancy silk-screened, computer-generated graphics we have today.
T-shirts are easy to clean, can be bought in bulk and can be used to uniformly equip a workforce. It's easy to put company names on the back or front and even put a message on them.
Fire department style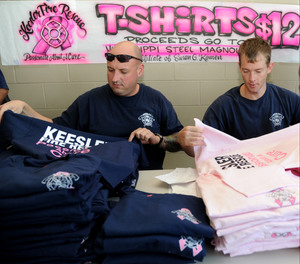 Most fire departments allow T-shirts to be worn. There are some exceptions of course; some places want you in button-up badge shirts on EMS calls, or want a uniform shirt worn during the day and allow the T-shirts at night.
Years ago, we went through a polo shirt phase. I never liked them, but that's just personal preference. Occasionally I see them now, and I immediately hear Olivia Newton-John singing, "Let's get physical."
Where I work, each shift is allowed to design and wear a shift T-shirt. I like that. I think it promotes camaraderie and pride in one's shift.
Many fire departments have slogans on their shirts: Engine this deep in the heat; Station so and so first in, last out. There is a station in my area that has a slogan: "Bringing them out alive." A cool slogan is fine; it promotes a little healthy competition between shifts and stations.
An entire wardrobe
Now let's have an honesty check. I have a lot of fire department T-shirts — some I have bought, some have been given to me. T-shirts are big business. I somehow seem to purchase one at a lot of the fire stations I visit.
I have purchased shirts in Baltimore, New Orleans and Toronto. The usual drill is they have a sign displayed and one guy usually heads up the T-shirt business. Sometimes you have to come back the next day when the T-shirt guy is working.
I have a lot of company shirts, department shirts and a few memorial fundraising shirts. A lot of times shirts are sold as a fundraiser to help a firefighter or his family.
I don't think I have any with witty sayings on any them. Some are clever: "Firefighters Kick Ash." I saw an EMS shirt the other day that said, "The Wheels on the Bus Go Round and Round." If you have been on a busy ambulance, you can really relate to that.
However, when I attend any of the large fire service tradeshows, it takes no time at all in the exhibit hall to find table after table of T-shirts. Some I really have to shake my head at.
So with that, here are five T-shirts I won't wear. The hate mail from the T-shirt sellers should be in shortly.
5. Firefighter: Will work for cupcakes
Well, about that statement. There are people who already think we sit around and eat all day. Plus, I need to bring home more than cupcakes. Is this the image we want to project?
4. Firefighters Work Where the Devil Dances
No, I'm out. It somehow borders on the satanic. It might have been proper attire at a singles bar in the '70s. Let me go out and turn on my Kojak light.
3. Kiss my Ax
I believe this is meant as a clever play on words. My aunt used to say "go pound sand." A popular sitcom from years ago involved a waitress saying "Kiss my grits!" No thanks. Furthermore, I have never had romantic desires involving forcible entry tools. And speaking of romantic desires ....
2. Firefighters Have Longer Hoses
I have visited numerous retail outlets, home improvement centers and hardware stores to investigate, and can debunk this urban legend.
Regrettably, I have come to a startling conclusion. The standard home usage water hose, commonly known as a garden hose, comes in 50- or 100-foot lengths. These hose lengths are available to the average consumer and can be connected together to make long hoses. Therefore, firefighters do not have longer hoses than anyone else.
1. Coed Naked Firefighting
What? Are you serious?
This comes from a coed naked craze from years ago. There were T-shirts of coed naked everything: baseball, soccer, football, you name it.
Anybody who wants to fight a fire naked has never been to one let alone been in one. Yes, we are a coed organization, and I have worked with several women over the years. I can promise you none of them want to see middle-aged me flapping in the wind at the next fire.
How about a Maltese cross on the front and an image of your apparatus, or department name on the back? Let me hear from you.