'He just wanted to do the work': Mass. FD honors first Black firefighter
Springfield remembers Firefighter Leonard Corbin was appointed to the department in 1969
---
By Jonah Snowden
masslive.com
SPRINGFIELD, Mass. — When describing his late brother, Leonard Corbin, the first Black firefighter in Springfield, "humble" was the first word that came to Eddie Corbin's mind.
"The fact is he was so well-trained and prepared to do the job, and quickly accelerated within the department, even though he didn't want a promotion," Eddie Corbin said of his brother. "He was such a humble guy. He just wanted to do the work."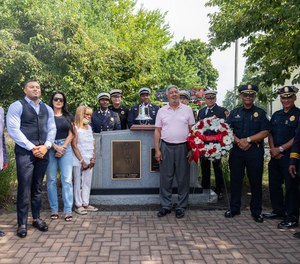 Corbin was appointed on June 9, 1969, and retired in March 4, 2001, serving a total of 32 years at the Springfield Fire Department. He was the second Black fighter statewide during the beginning of his tenure, as The Republican previously reported. He passed away in 2008 at the age of 62.
A brief ceremony for Leonard Corbin was held Tuesday afternoon outside the Eastern Avenue Fire Station, where a wreath was placed in his honor. Participating firefighters at the ceremony also sounded a traditional salute — four bells to signal an engine returning home, followed by eight bells as a signal for Engine Company 8, Corbin's first assignment.
Springfield Mayor Domenic J. Sarno said Corbin is Springfield's Jackie Robinson, a baseball desegregation pioneer.
"He opened so many doors for all firefighters, especially African American and minority firefighters," Sarno said. "All he ever wanted to be was a firefighter, when he came in a very, very challenging time. ... He was respected by all, and he would help anyone, anywhere."
Both the Springfield Fire Department and Brockton Police Departments were released last year from a federal consent decree that prioritized the hiring of Black and Hispanic applicants. The original decree, which dates back to the 1970s, states that participating cities and towns prioritize the hiring of Black and Hispanic candidates in Massachusetts police and fire departments.
The city agreed to the consent decree with the U.S. Department of Justice and 99 other communities across the state, six years after Corbin was hired.
The Springfield Fire Department currently has 280 employees, 60% of whom are members of a minority group, according to Fire Commissioner Bernard J. Calvi.
U.S. Census statistics from 2022 show that 20.8% of the Springfield population identify as Black or African American, 47.5% identify as Hispanic or Latino, and nearly 53% identify as white alone.
According to a previous report from The Republican last year, 56% of Springfield firefighters and 54% of police officers are Black, Latino or Asian.
"This is a fully diversified metro Fire Department, and everyone at every level brings different levels of expertise and experience, which is able to benefit the city and the citizens of Springfield," Calvi said. "The department is very proud of Lenny Corbin."
He later told The Republican the ending of the decree hasn't changed any of its current hiring practices.
"We're still continuing along the same path," Calvi said.
Corbin's 32-year tenure continues to influence the current and next generations of firefighters in Springfield. District Fire Chief Tyrone Denson, who worked with Corbin in the late 1990s, said he regrets not spending more time with him.
"I would ask more questions about how his station life was," he said. "I would just like to acquire things like that, because I didn't realize (how much he) influenced me. He was the first African American firefighter (in the city). I'm the first African American deputy chief (in Springfield)."
Denson said, in honor of Corbin, he tries to be a humble guy like "Lenny" and be a good influence for the city's younger residents.
His advice to aspiring Black firefighters is to "work hard."
"Don't get complacent in anything that you do," he said. "Just be persistent and consistent about what you want to do. If you have a dream, reach for it. Don't let negativity set you back."
©2023 Advance Local Media LLC.
Visit masslive.com.
Distributed by Tribune Content Agency, LLC.
McClatchy-Tribune News Service