10 Fla. FFs injured in cargo ship explosion file lawsuit
Three of the firefighters still haven't been able to return to work after the June 4 fire and blast in Jacksonville
---
By Laura French
JACKSONVILLE, Fla. — Ten Florida firefighters who were injured in a fire and explosion on a cargo ship in June have filed a lawsuit against four owners and operators of the ship. 
The lawsuit filed on Tuesday by the 10 Jacksonville firefighters alleges negligence that put the first responders in danger, according to Action News Jax. The June 4 blast on the 15-level cargo ship caused several of the firefighters to suffer serious injuries, including burns.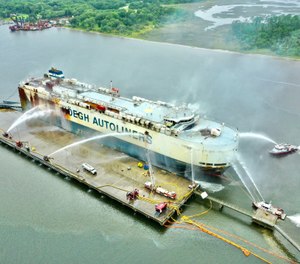 Attorney Curry Pajcic, who is representing the firefighters, held a news briefing Tuesday saying that three of the firefighters have still been unable to return to work due to their injuries, and all 10 are still in the recovery process. Pajcic said the incident has also cost the City of Jacksonville millions of dollars in medical bills and man-hours. 
Pajcic outlined several examples of the alleged negligence, including that the ship's fire alarm system had been disabled and that the ship was filled with wrecked cars, some of which hadn't had their batteries disconnected, according to the attorney. Pajcic said firefighters heard car horns and saw lights on the vehicles flickering while battling the fire. 
The attorney also said the ship had no flooding sprinkler system and no standpipes, forcing firefighters to drag their hose up the stairwell they were in when the blast occurred on the eighth deck, according to News 4 Jax. 
Pajcic added that the crew of the ship didn't initially call 911 when the fire started and had trouble communicating information about the fire with first responders because they didn't speak English. Pajcic alleged that after the blaze the crew was sent away by the ship's owners, possibly overseas, before they could be interviewed. 
The four defendants in the case are Hoegh Autoliners, Horizon Terminal Services, Grimaldi Deep Sea and SSA Marine.