2008 USFA LODD report highlights stress, crashes
---
Editor's note: The USFA's annual Firefighter Fatalities Report says stress or overextertion was the leading cause of firefighter deaths, and LODDs among younger firefighters usually involved vehicle accidents in 2008. What do you think about the findings and what should be done to reduce fatalities? Voice your opinion in the
member comments section
.
By Jamie Thompson
FireRescue1 Editor
EMMITSBURG, Md. — Stress or overexertion and vehicle crashes were again the leading cause of firefighter LODDs last year.
The USFA's annual Firefighter Fatalities Report released on Friday gives an overview of the 118 firefighters — the same number as the previous year — who died while on duty in 2008.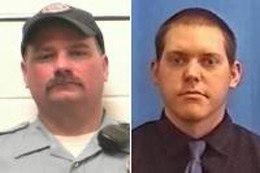 Of the total, 52 firefighters died from stress or exertion and 28 firefighters were killed in vehicle crashes — half of which occurred in an aircraft.
"The causes of death among firefighters are well known and the steps necessary to protect firefighters have been studied and reported in numerous forums," United States Fire Administrator Kelvin J. Cochran said. "We must take the necessary steps to ensure, as much as possible, all firefighters return from every call, safely."
During a keynote speech at Fire-Rescue International in Dallas last month, the newly sworn-in administrator promised an aggressive approach to reducing LODDs.
In all 14 of the non-aircraft vehicle crashes in 2008, the firefighter killed was operating the vehicle. No seat belt was used in eight of the 11 cases where seat belts were available and the status of their use was known.
Of the eight drivers not wearing seat belts, six were fully ejected from their vehicles. In two crashes, the status of seat belt use is unknown or not reported.
The total breakdown of firefighter LODDs included 66 volunteer, 34 career and 18 wildland agency firefighters.
Further statistics reveal:
There were five firefighter fatality incidents where two or more firefighters were killed, claiming a total of 18 firefighters' lives.
Twenty-six firefighters were killed during activities involving brush, grass or wildland firefighting, more than twice the number killed the previous year.
Activities related to emergency incidents resulted in the deaths of 75 firefighters.
Twenty-eight firefighters died while engaging in activities at the scene of a fire.
Twenty-one firefighters died while responding to, and three while returning from, emergency incidents.
Twelve firefighters died while they were engaged in training activities.
Thirteen firefighters died after the conclusion of their on-duty activity.
Heart attacks were the most frequent cause of death for 2008 with 45 firefighter deaths.
The report outlines concern over the number of firefighter fatalities involving vehicle crashes, saying it is clear where mitigation and prevention efforts need to be focused in terms of younger-aged LODDs.
"The vast majority (92 percent) of young firefighters were riding in or operating motor vehicles (one bicycle) when they were killed," the report says. "Of these firefighters, 85 percent were responding to an incident. This is in sharp contrast to just 14 percent of all other firefighters killed since 1990 while responding to an incident."

The youngest firefighter killed in 2008 turned 17 less than a month before being killed when responding from his residence in a privately-owned vehicle to an automatic fire alarm at approximately 0047 hours.
He failed to negotiate a curve in the roadway striking an electrical utility box and several trees — the vehicle rolled several times. He was not wearing a seat belt and was ejected from his vehicle, and was discovered dying at the scene by utility workers several hours later.
The report also focuses on the number of firefighters — 12 — who died in training activities.
• Two firefighters, one an instructor, experienced heart attacks while participating in two separate live fire training activities.
• Two firefighters suffered heart attacks during self-contained breathing apparatus drills at their respective fire academies.
• One firefighter's heart attack occurred in the station shortly after classroom training and another during what was reported to be particularly physically challenging training.
• One heart attack occurred while a firefighter operated a pump panel and was leading students through a flammable liquids fire scenario.
• One heart attack occurred while the firefighter was in transit to a training activity.
There were no heart attacks that occurred during or after fitness evaluations or physical fitness activities, according to the report. While two firefighters died during physical fitness activities, one was from blood clots in the lungs and the second was from acidosis and dehydration.